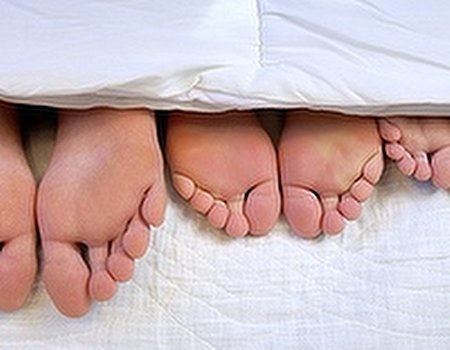 We're all perkier after a proper night's sleep. Catching plenty of zzz's lifts your mood, increases energy levels and helps busy bodies to regenerate and refresh themselves.
And now a new study carried out by the University of Pittsburgh School of Medicine implies that how women sleep can have a direct effect on their marriage. 'Wives who took longer to fall asleep the night before reported poorer marital functioning the next day, and so did their husbands', states Dr Wendy Troxel.
Dr Troxel's study group contained 35 couples in their thirties, with no history of physical or mental health problems, thus eliminating depressive symptoms as a cause of marital tension. The couples' movements over the course of the night were noted in order to ascertain who slumbered soundly and who tossed and turned. The couples then recorded both the positive and negative 'interactions' occurring between them the following day.
A direct correlation was seen between the amount of time it took the female partner to fall asleep and the number of problems and arguments reported. Interestingly, if the husband took longer to reach a deep sleep the amount of 'negative interactions' remained the same.
We at Wahanda think that this is a perfect reason for all the wonderful wives out there to get some pampering. There's a wide array of relaxing sleep treatments out there perfect for soothing you into slumber.
Massage is a fabulous method of relaxing the body ready for a good night's sleep. By using specially selected oils such as lavender, aromatherapy massage has a doubly soothing effect on the senses, helping you to drift off double-quick.Psychotherapy, hypnotherapy and acupuncture are all awesome alternative methods of stimulating shut-eye. So to feel fabulous, look lovely and refresh your relationship, treat yourself and get some extra relaxing repose.
Better health, less stress and a better marriage? Sounds good to us. For more scintillating snippets and hot health news, follow us on Facebook or Twitter.