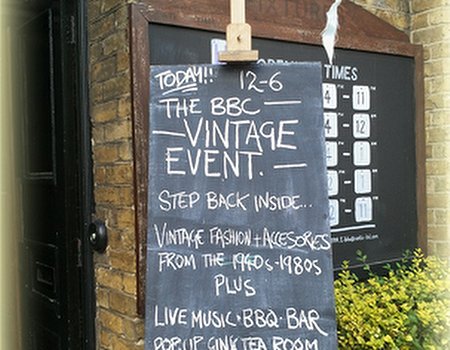 We don't need to tell our fabulous Wahanda followers that all things vintage are 'in'. From swinging sixties to the fantastic fourties, styles from the past are having a huge fashion moment. Amazing events and treatments are popping up all over the country so it's never been easier to get the look. We shimmied down to Balham Bowls Club to the first date of 'The Vintage Event' to see what beauty bargains and pin-up props we could find to help us join the retro-volution.
Stepping inside the bunting-clad bowls club, we could instantly tell that The Vintage Event's team weren't fibbing with their promises of 'objects of desire from the 1940s to the 1980s'. Three rooms of delightfully decorated stalls and rails were jam-packed with brilliant bargains. From silky seventies slips to faux furs from the fifties, there was truly a treasure for everyone. The pop up Gin and Tea Room tempted us with goodies whilst the full bar and BBQ kept the boys occupied.
Best of all, we encountered The Beauty Queens. These amazing make-up mavens had taken up residence in a quirky corner decorated to resemble a film star's boudoir and were offering make-up and hair styling with a vintage twist. Dressed to the nines, lovely ladies Laura and Gina were happy to chat about their booming business, from putting the flair into vintage fairs to styling magazine shoots and preening bridal beauties for their big day. As well as their yesteryear inspired creations, The Beauty Queens are also accomplished in modern and photographic make-up, perfect for any event.
If you fancy mastering victory rolls or trying out the perfect red lipstick, visit The Beauty Queens' website , Facebook or follow them on Twitter. The next 'The Vintage Event' is taking place at The Balham Bowls Club on the 11th September 2011 and is not to be missed, with even more beauty bargains for vintage vixens.