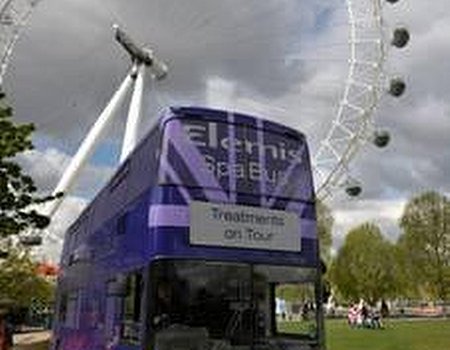 All aboard for relaxation- Elemis just turned 20, and to celebrate the CEW 'Best British Brand' Beauty Oscar winners are taking their treatments on tour with a customised, royal blue 'Spa-bus'.
Catch the bus at an event or shopping centre near you and you're in for a treat, as the 'Elemis Angels' are offering five specially customised treatments which aim to provide you with a blissful, relaxing time-out in only fifteen minutes. Each treatment costs just £10, 10% of which goes to the 'Mothers for Children' charity as part of Elemis' 'year for caring' campaign. The Spa-bus team hope to raise more than £ 50,000 for the charity and your donation will go towards supporting vulnerable young people and inner-city children as well as improving the quality of life of orphans in developing countries.
Hop on to the lower deck for a mini Exotic Hand and Arm Massage and get a free personal lifestyle or skincare consultation with one of the Angels… bliss. As if that wasn't enough, there will also be beauty workshops to attend and prizes to be won – so well worth the bus fare.
It only gets better if you visit the upper deck or 'Spapod', where you'll find Intelligent Massage and Shiatsu Spot-On massage chairs, guaranteed to knead away all those aches and pains while you enjoy your treatment.
Take your pick from:
Sole Rescue Foot Treatment
Skin Booster Facial
Full Exotic Arm and Hand Massage
Chill Out Shoulder and Scalp Massage
Re-Charge Power Back Massage
Each of the treatments are known for their rejuvenating and relaxing properties, giving maximum results in minimum time – sounds good to us.
After your treatment those thoughtful people at Elemis have even thought of a way for you to take a little bit of the spa experience home with you, by creating a specially designed Union Jack cross-body bag. It comes in a hot fuchsia or classic black for only £15, containing your choice of a 'Festival Survival Kit (for him or her)', 'Face and Body Starter Kit for Her' or 'Time for Men Starter Kit', so you not only get to continue the pampering in style, but also donate another £1 to Mothers for Children.
The 'Festival Starter Kit' is especially useful, with goodies such as toning wipes, Exotic Lime and Ginger Hand and Body Wash, Pro-Collagen Marine Cream, a toothbrush, toothpaste, Pro-Collagen Hand Cream, an eye-mask, Eau de Parfum and more- everything you need to stay festival fabulous and sweet smelling in your wellies (no matter what the weather throws at you).
To find out when you the bus is stopping near you, just check out the schedule at http://www.elemis.com/BreakingNews/SpaBus.aspx or you can follow @ElemisSpaBus on Twitter.