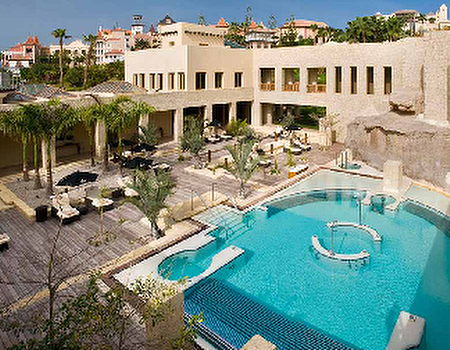 I decided to ditch the city and head to Tenerife with a friend for a weekend of relaxation, pampering, fine food and sunshine. Despite a lack of sun, the Hotel Bahia del Duque managed to put a smile on our faces.
Its position on the beach and 13 restaurants meant we didn't have to stray far for comfort. Beautifully designed by ESPA, with interiors by Pascua Ortega and Perico Mesa, the spa had an abundance of natural light, a saltwater pool, swimming pool, sauna, Scottish showers (hot and cold) and relaxation room, as well as 20 therapy rooms and two VIP suites complete with jacuzzi and steam room.
There are also separate men and women's spas and relaxation areas, each housing its own hamam, sea-water therapy circuit and saunas. Guests keen to work out during their stay can enjoy Pilates, yoga or free weights.
I opted for a massage with a manicure and luxury pedicure, after which paraffin wax booties were slotted on to keep my skin warm and soft. If only I could have had this done to my entire body. If the weather had been a bit better, I'm sure we would have enjoyed the beautiful tropical gardens and swimming pools. But we had a memorable time, nonetheless.
In the Know
On the menu: Massages, pedicures, manicures and fitness lessons.
Signature treatment: One-hour Holistic Foot and Leg treatment.
Cost: From £75.
Verdict: 9/10
Contact: www.bahia-duque.com