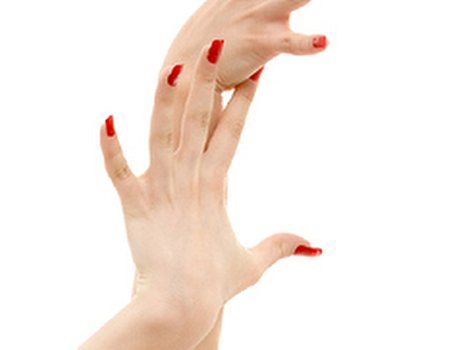 They may not be at the top of your beauty regime, but nails get noticed more than you think — and a nicely manicured hand tends to indicate the rest is well-groomed, too. But after a cold winter of harsh winds and relentless rain and snow, nails can be easily neglected — particularly if they've spent months being shoved in gloves.
Before rushing out and buying the latest summer colours, however, consider whether your nails need some serious TLC. Dry and cracked nails aren't a good base on which to start adding colour, with the result often looking 'bumpy' rather than sleek and sophisticated. Polish lasts longer on well-looked after nails, too. So if your nails are in need of some severe grooming, don't panic: Spa Secrets is here to lend a helping hand, solving three common problems both at home and in the spa. We've also talked to the industry experts to ensure you have everything you need to know to get you started. What are you waiting for?
Grow Your Own
Nails that are brittle are probably dry or have been stripped of natural moisture. Acetone based polish removers can be the biggest cause, with jagged nails more likely to catch and break. The good news is that nails often become stronger in the summer with the warm weather increasing blood flow and stimulating growth.
Lotions and Potions
With a regular routine, keeping your nails well groomed takes only a little effort. When cuticles are dry and peeling, you need to moisturise. A cream with oat beta-glucan and Vitamin E will counteract dryness and help restore skin elasticity. Try Barielle Intensive Hand Treatment Cream (£24).
In The Spa
Treat yourself to a luxury spa treatment designed to deeply condition hands and nails. Kuno Tierra Spa's Ritual Almond Express Spa Manicure (£40 for 30 minutes) includes a relaxing and spine-tingling massage of the hands and lower arm. Dead tissue is removed from hands and fingers, and a luxurious cuticle cream is applied to moisturise and treat nails.
Well Polished
Summer is the best time of year to adorn your fingers with bright and colourful polish but no varnish will stay put for long if you cut corners. Always use a base coat to prime the surface of the nail, levelling out bumps or ridges and leaving you with a smooth canvas to work with. Build the colour by applying layers of very thin coats.
Lotions and Potions
Go bold with OPI's A Good Mandarin Is Hard To Find (£9.95), a zesty orange shade from their new Hong Kong Collection. To make bright colours last longer, add an extra layer of topcoat every day. Finish by misting with OPI RapiDry Spray (£17.50 120ml), leaving nails dry to the touch in less than a minute.
In The Spa
The Lowry Hotel Health Spa, Manchester, offers a range of manicures including treatments from OPI. Try the Prescriptive Manicure (£35) where each nail is treated individually, caring for the cuticle before shaping.
Dry And Cracked
Fragile nails that split and peel easily need a strict regime providing extra support and care. Your diet should be well balanced to provide the vitamins and minerals needed to help fingernails grow strong. Without this, your nails will become dry and brittle.
Lotions and Potions
If you're low on nutrients, try and introduce multivitamins or supplements to your daily diet. Supplements will nourish and protect from the inside, providing essential micronutrients to support skin, hair and nails. Try Perfectil Plus Skin, Hair & Nails (£16.95). Each tablet contains a unique formulation of 24 nutrients including antioxidants, natural plant extracts and other essential vitamins and minerals.
In The Spa
Urban Retreat at Harrods offers the Murad Intensifier Vitamin C treatment for hands (£60 for 75 minutes). The luxury treatment reduces the signs of premature ageing on the skin as well as intensively hydrating nails and cuticles. A finishing treatment acts as a barrier against future damage.
Expert Tip
"Ideally we should get a full range of nutrients from our diet, but the majority of clients find this difficult to achieve. I suggest a supplement containing Vitamin B, selenium, Coenzyme Q10, Omega-3 and Omega-6. These mineral-rich nutrients strengthen both the hair follicles and the nail beds." - Anita Ellis, Nutritionist and beauty expert.