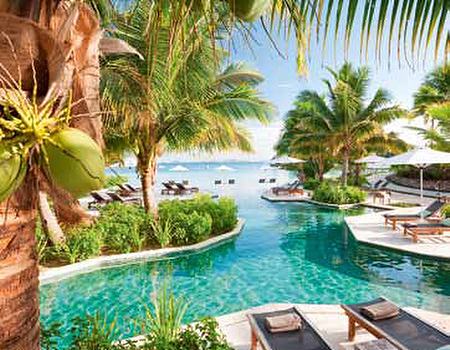 The only hotel on the island of Fiji to offer over-the-water bungalow accommodation, this small but perfectly formed resort is a haven for honeymooners and couples looking for something really special.
Upon arrival, I was greeted by a gathering of the hotel's staff singing the Fijian welcome song, and offered a refreshing passion-fruit cocktail from a bar overlooking the lagoon. A Likuliku necklace was then slipped around my neck and I was welcomed 'home'. OK, so maybe this was a little on the cheesy side, but I couldn't help feeling a little bit special.
The lagoon is the perfect backdrop for The Tatadra Spa, which translates to 'house of dreams'. With just two treatment rooms, it has a boutique feel, although the hotel does have expansion plans. The consultants used products from the Pure Fiji range, and I was presented with nine different fragrances to choose from for my Relax & Restore massage. The pressure was tailored to my requirements and I was encouraged to be vocal in helping the Masseur fine-tune the treatment to my liking. The techniques are said to activate the body's natural healing process, enabling it to function at its best.
After the treatment, I headed back to my room feeling as light as a feather, before spending the rest of the day relaxing around the impressive infinity pool — good book and iPod to hand. It really is hard to image a better setting for a spa break.
by Adam Smith
On the menu
A full range of massages, hand and foot treatments, bride and groom packages, sugar body glows and rejuvenating facials.
Signature treatment: Tatadra is a blissful stone massage and reviving facial.
Cost: From £22 for a 30-minute massage to £70 for a Fiji Island Ritual treatment.
Verdict: 9/10
Contact: www.likulikulagoon.com