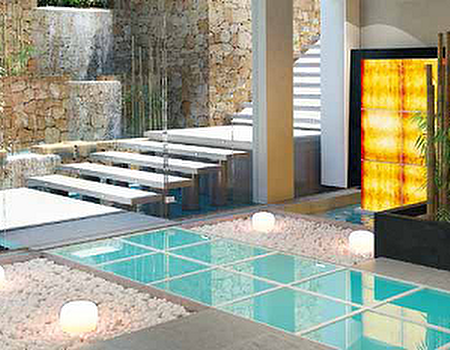 I've been to Ibiza more times than I can count — but this trip is different. I've come purposely to experience Ibiza's holistic side — the one without alcohol, dance culture and consumerism. My body will benefit. But will I have fun?
I'm pleasantly surprised when I throw open the shutters of my room — dew glistens on the grass and a layer of cloud and mist occasionally parts to give tantalising glimpses of the surprisingly lush, rolling countryside behind. Goats graze under olive trees and fig groves in the distance, and the only sound I can hear is the tinkle of china in the kitchen as the smell of freshly-baked croissants quickly tempts me out of bed and downstairs. This is a time of day I haven't appreciated on previous visits to the island. Normally at 7am, I'm scanning the horizon for a cab after six hours of clubbing at Pacha and, once at my villa, I've fallen swiftly into bed to arise at noon after two Paracetamols and a pint of water.
I'm staying in Can Gasi, a beautifully-restored 19th-century finca in the middle of the countryside, and I've been coaxed out of bed by a tall, unnervingly serene woman with flowing blonde hair who's convinced she can make me look and feel great naturally. She's booked me in for an hour of yoga with Lena Tancredi, a slight, svelte lady who can bend her body like Play Dough.
While the good news is there's only three people in our class, the bad news is I'm the only beginner. My mind is willing to do the movements she suggests, but my body is less eager. Lena is patient though, and takes note of my injuries and ability, adapting the poses to prevent any further damage while still giving my body a strenuous workout. After an hour, I'm feeling less stiff and stressed and also surprisingly nimble for a girl fast approaching 40.
Hippy chic
After a wholesome breakfast of freshly laid eggs where the vivid yellow yolk dribbles out slowly and homemade pastries which melt in the mouth, I'm in the car on the short drive to the east coast and the island's most famous hippy market, Las Dalias. With more than 100 stalls selling everything from Bohemian beaded jewellery to flowing, chiffon bejewelled kaftans and ankle-tie linen pants, it's the perfect place to spend a morning browsing. It's also an ideal location to enjoy live music and feel the relaxed, hippy vibe that makes Ibiza a magnet for many holistic healers.
Ibiza's 'alternative' ambience perhaps stems from it's hippy haven days in the 1960s, when everyone from draft resisters to rock stars stopped off here on their way to Goa and took part barefoot in wild moonlit parties on remote beaches in the north of the island. Nowadays Benirras, a beach lined with tall pines, still attracts the odd bongo drummer at sunset, but you don't have to go here to experience the Bohemian attitude that attracts everyone from cashstrapped students to big City bankers. Everywhere on this island will appeal to free-spirited visitors wanting to escape the world and get in touch with their inner self.
Ibiza's magical vibe also attracts expert teachers, therapists and healers from all over the world with companies such as Ibiza Retreats now offering an A-Z of teachers and therapies. Whether you want yoga or hypnotherapy, acupuncture or Reiki, these guys will slickly deliver a professional to your villa or hotel at the drop of a hat to help you get fit or cure any ailment or niggle. People with more time on their hands can choose from a bewildering menu of day packages from 'Post-party purification and pampering' to 'Romance & Recuperation' to ensure that everyone, from stag parties to couples, gets a memorable holiday.
Spa time
Numerous hotels on the island are adding their own gleaming spas and employing a range of fitness gurus who promise to whip your mind and body into shape. Just a stone's throw away from Las Dalias stands Can Curreu, an 'agritourism' hotel consisting of 17 whitewashed villas where guests can relax in ultimate luxury. Its new spa, perfectly framed by citrus trees and cacti, features a series of hydro pools that will pummel and push your body into shape, while treatments range from antiageingv facials to energy rituals. Outside, several resident Spanish horses will carry you on a gentle ride to clear the mind and rejuvenate the soul, while fitness fanatics can hire bikes and attempt one of the many cycling routes around the island to shed a few pounds.
A short drive away is a pretty sandy bay, Cala Nova, where I'm scheduled for my next treatment: [[treatment/meditation/|meditation] with Miguel Silva, a rather good looking-guy who has an intriguing past — living in a Tibetan monastery and training in Tai Chi and Qigong in Asia. We hike out to a quiet outcrop overlooking the sea for our first session where I attempt to learn the art of decluttering my mind. It's tough not to think or speak for five minutes, let alone half an hour, and I can't shake that annoying habit of making lists in my mind and planning the day ahead instead of just enjoying the moment. Yet Miguel's gentle breathing exercises — combined with the rise and fall of the waves — has a calming effect like no other and I feel strangely relaxed yet invigorated despite my initial reluctance. "Is a week long enough to see a marked improvement in my body and soul?" I ask. "Half an hour can make a difference," he replies with a sense of knowing, confidence and calmness that I wish I could bottle up and take home.
Time out
I decide the next step in my journey is to pamper my body and book a treatment at Bodyna Spa in the basement of swish new eco-conscious five-star hotel, Aguas de Ibiza. After a heavenly Ayurveda massage I sunbathe outside where every indulgence has already been thought of, from the relaxing underwater music in the pool to double bed-sized luxury loungers. Bedrooms feature top-of-the-range Bang & Olufsen TVs and are designed according to Feng Shui principles, with spiral-shaped ceilings absorbing bad energy. At night, a chromotherapy lamp emits alternating light programmes to balance biorhythms and encourage sound sleep, while bed sensors radiate a low-level LED light so you can find your way to the bathroom without doing an impression of a rabbit caught in the headlights. And you can forget about being rudely awakened by the sound of a bleeping alarm. Here, a computer schedules your curtains to open so that you rouse gently at sunrise with a smile on your face. Not surprisingly, I sleep soundly for a second night in a row, once again without the need for painkillers.
While I love my hedonistic party holidays in Ibiza, it seems holistic ones can be just as fun — and you come back feeling a whole lot better for it, too.