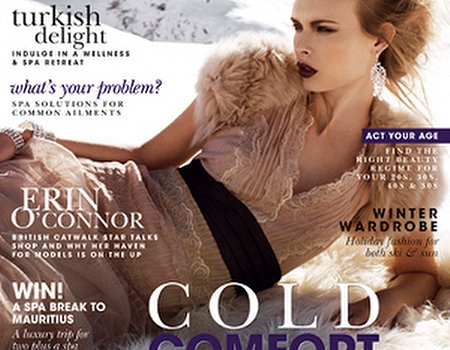 Psst, spa lovers – did you know that you can now preview the Winter 2011 issue of Spa Secrets magazine online? A 22 page teaser of this packed instalment is available for your perusal at www.spasecretsmagazine.com/winter11. You can say goodbye to getting any more work done this afternoon...
Ready to try some new trends? It's out with the old and in with the new at Spa Secrets, with the winter issue focussing on the latest spa innovations, new beauty looks and even advice from supermodel Erin 'O Connor. Perhaps one of the most fascinating pieces is a feature on age-appropriate skincare, which asks when you last overhauled your skincare routine. If it was a long time ago, you might want to heed editor Katie Reich-Storer's advice:
'It's time to act your age – if you're still using the same moisturiser now as you were 10 years ago, it's definitely time you looked at your beauty regime and brought it up to date to match your age. Our beauty feature will help you choose the right products whether you are in your 20s, 30s, 40s or over 50s.' Looks like sorting out your skincare is one thing you can tick off that New Year's to do list...
The Winter issue also includes a look at when it's best to start a family, a guide to ski spas and some inspirational beauty ideas by makeup artist Jemma Kidd. Want to read more? You can pick up a full, 164 page printed copy from Selfridges, Harrods, Tesco, M&S or your local health and fitness centre. Whilst you're there, you could always pick up a copy for your family too - it'll be sure to keep them quite this Christmas!
If Katie's wise words have got you thinking, why not invest in a luxury facial to ward off those wrinkles and keep your skin looking youthful and radiant. We reckon your future self will be extremely grateful...