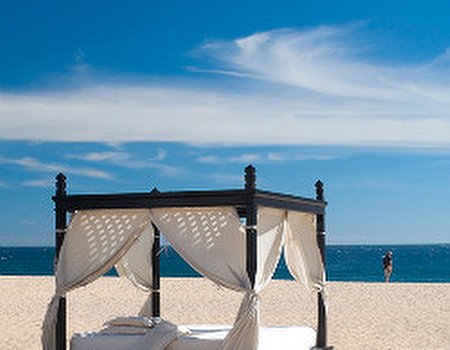 Poorna Shetty visits spas in Mexico, Antigua, St Lucia, the Turks and Caicos islands, and Grenada.
Mexico
A country so vast it has its own micro-climate, Mexico has it all. From the snowy Sierra mountains, jungles in the south-east, desert in the north-west and powdery beaches along the western peninsula, it shares it borders with the US, Belize and Guatemala, with an equally eclectic bag of cultural influences. Mayan ruins, crumbling haciendas and 6,000 miles of shoreline make for great exploration, while the water holds pristine coral reefs for snorkelling and diving.
The place to be: Riviera Maya
Close to Cancun, but in a world of its own and protected by the world's second-largest barrier reef, the Riviera Maya sits on the Yucatan Peninsula. The biggest draw is the 80-mile coastline of fine-sand beaches nudging the Caribbean Sea, with low-lying jungle in the background. Tulum and Xcaret house Mayan ruins, while the island Cozumel offers some of the best visibility for watersports.
The hotel: Zoetry Paraiso de la Bonita, Riviera Maya
Sandwiched between a vast stretch of grassland and the Caribbean sea, this tranquil 14-acre boutique resort with 90 plush oceanfront suites is where the A-list comes to rejuvenate.
The spa: Stretched over 22,000sq ft, the certified Thalasso Centre is the first of its kind in North America.
The product: Thalassotherapy, an anti-ageing centre, Mayan healing practices, yoga and Tai Chi.
The treatment: A Seaweed Body Treatment — where the body is wrapped in a blanket to drain the lymphs.
The best bits: The beautiful Presidential Spa Suite can be hired for private treatments.
The price tag: An 80-minute La Bonita's Secret, a body scrub using Mayan herbs and salts, costs from £139.
Lead-in price: Seven nights including unlimited food and drink, daily champagne and fruit, and 20-minute massage from £1,629 per person. zoetryresorts.com/paraiso
The alternatives
Protected by 200 acres of jungle and resting on the beach of the Riviera Maya, Maroma Resort's Kinan Spa focuses on unlocking positive energy. Most treatments are based on Mayan
healing, with a Med Spa and Mud Bar. They also use a temazcal, a sauna-like sweat lodge where herb-infused water is poured on volcanic rocks.maromahotel.com
A 50-acre private estate that used to belong to an Italian duchess, Escencia sits on the best beach. Famed for its privacy and peacefulness, its Aroma spa is the first on the Riviera, using herbs grown on resort. It has four treatment rooms, two Mayan steam rooms and four Jacuzzis. hotelesencia.com
St Lucia
The Pitons, St Lucia's two soaring, craggy volcanic peaks, gaze down from a 2,000ft height at he lush, flourishing island below. At ground level it's a different world, with sulphuric springs and thick umbrellas of dense jungle. As a volcanic island the views are spectacular, from the Diamond Falls to the National Rainforest housing hundreds of birds. Castries is a lively city — but with a total island population of just below 170,000, it never feels too crowded.
The place to be: Soufriere
Right next to the UNESCO-listed Pitons, St Lucia's oldest town has been rebuilt due to fires, hurricanes and an earthquake. Some of the estates are still standing, and with sweeping bays and picturesque houses, traces of its tempestuous history can be hard to find. The Sulphur Springs are nearby for hot baths, and the scenic Diamond Falls waterfall is set within the Soufriere Estate. For an education in cocoa, the Fond Doux Estate is a working plantation running historic tours.
The hotel: The Jalousie Plantation
Set on Sugar Beach, this vintage yet modern resort rests on the site of an 18th-century sugar plantation in acres of rainforest.
The spa: With mountain views, the Rainforest spa has seven treatment rooms and two private outdoor cabanas.
The product: Emphasis is on chemical-free products using aloe vera, banana and cocoa butter.
The treatment: Signature treatments include Time For Two Facials, using oils and minerals, finished with a face and scalp massage.
The best bits: The Romantic Renaissance is a massage for two followed by a rose petal bath, lunch and sparkling wine.
The price tag: A 50-minute Brown Sugar scrub, mixed with coconut, starts from £60. jalousieplantation.com
Lead-in price: Seven nights with flights from £1,295 per person, including accommodation in a Sugar Mill Room, with private transfers. seasonsinstyle.com
The alternatives
Owned by an architect, Jade Mountain reflects the beautiful outdoor scenery inwards. Known for its infinity pools with views over the sea and mountains, the Kai en Ciel spa dabbles in Ayurveda, with a signature Forget The World treatment. jademountain.com
Set on a bluff facing the ocean, Cap Maison's rooms have private terraces and pools. The spa uses long-flowing movements, with treatments performed in the garden, on the terrace or in your room. capmaison.com
Antigua
Antigua is said to have 365 beaches, but with such sleepy scenery, it's doubtful even Christopher Columbus visited them all when he landed here in 1492. It's the larger of the two main islands that make up Antigua and Barbuda, and is also renowned for turtle hatchings and colourful birdlife. It gained independence from Britain in 1981 but still has relics from its naval days, with shipwrecks off the reef and the restored colonial naval station Nelson's Dockyard.
The place to be: Jolly Harbour
Located on the west coast of Antigua, Jolly Harbour is home to a mile-long stretch of soft, white sandy beach framed by a leafy hillside. Watersports are a big draw in Antigua: from the buzzing Jolly Harbour marina, Cades Reef is only a 15-minute boat ride. Located between St. John's in the city and English Harbour, home to Nelson's Dockyard, it's a good spot for sightseeing. For a more deserted beach experience, Darkwood beach is located a couple of miles to the south.
The hotel: Sugar Ridge
This boutique hotel shoulders the hills with 60 luxurious suites overlooking the sea. Featuring contemporary rooms with four-poster beds and private plunge pools, it's possible to see neighbouring islands St. Kitts and Nevis, while the sunsets are always spectacular.
The spa: Set in the centre of the resort, this 6,000sq ft spa is light and airy, with plenty of space to relax and unwind.
The product: It's the island's first Aveda Concept spa, offering holistic therapies as well as beauty and fitness treatments. All treatments start with a personal consultation, which can take place in one of four treatment rooms, two of which are used for couples' treatments.
The treatment: Using Aveda products, try the 75-minute Caribbean Therapy Body Treatment, which begins with dry exfoliation followed by a detoxifying seaweed masque and wrap. Follow this with a customised Elemental Nature Massage for 60 minutes.
The best bits: The Sheer Bliss package lasts for three-and a-half hours and includes a manicure, pedicure, massage, two-course lunch and a glass of bubbly.
The price tag: A 60-minute Chakra Balancing Massage costs from £50. sugarridgeantigua.com
Lead-in price: W&O Travel is offering a seven-night spa package from £1,325 per person, including Circuit Training, Nature Walk or Aerobics Class plus a 60-minute daily Spa Treatment. wandotravel.com
The alternatives
Set in St. John's, Galley Bay's 98 rooms are set in 40 acres of tropical gardens, ranging from
distinctive Gauguin-inspired cottages to luxurious rooms opening out towards the sea. The spa rests against the resort's lagoon and bird sanctuary, so your rustic, open-air massage on the decks will be accompanied by birdsong. galleybayresort.com
With a 300-acre stretch shielding Jumby Bay from the outside world, the levels of tranquillity and privacy are fairly high. Sense, the Rosewood spa, makes extensive use of coral, coconut milk and ylang-ylang in its treatments, with signature treatments including Sense Experiences, usually lasting around two-and-a-half hours. jumbybayresort.com
Grenada
The canopies of nutmeg trees make Grenada one of the Caribbean's main spice islands, and although it's relatively new to tourism in comparison with its neighbours, this only enhances its unspoilt beauty. It's a volcanic island with rich soil, so no wonder there's so much vegetation here. Grand Anse Beach is the main beach stretch; there are also spice plantations, historic forts, waterfalls and lakes as testament to its rich beauty.
The place to be: St. George's
Cradled by the edge of a volcanic crater with 17th century French architecture in its belly, picturesque St. George's is home to most Grenadians. A horseshoe-shaped harbour is a launchpad for day-trippers and it's easy to get lost in its labyrinthine alleyways. Fort Frederick offers a sweeping panoramic view of the south-west coastline.
The hotel: LaSource
Nestled against the hillside, LaSource on Pink Gin Beach gives no clue of its proximity to St. George's bustle of activity. Small and holistic with yoga, meditation and Tai Chi classes on the beach, its 100 rooms, dotted across the hills and facing the sea, have mahogany four-poster beds, marble bathrooms and Caribbean jalousie-style shutters to keep the heat at bay.
The spa: With a strong focus on rejuvenation, the Oasis Spa has 17 treatment rooms set against an exotic Moroccan themed decor.
The product: Using Pevonia products with a focus on antiageing and soothing sunkissed skin.
The treatment: Sample signature treatments such as the Anti-Ageing Myoxy Caviar Facial, helping improve the skin's elasticity, or the 50-minute Back and Shoulder massage, kneading locally sourced coconut oil, nutmeg and cloves into the back and shoulder muscles.
The best bits: All guests receive one complimentary treatment every day, from massages to scrubs.
The price tag: The Spicy Grenadian Body Scrub, during which warm oil is drizzled on the body before a nourishing body milk, starts from £50. theamazingholiday.com
Lead-in price: Seven nights in Grenada with Virgin Holidays, including flights on an all-inclusive basis with transfers, starts from £2,039 per person. virginholidays.co.uk
The alternatives
A few yards from the Grand Anse Beach, Spice Island Beach Resort is naturally fragrant from the surrounding lemon and almond trees. An eight-acre property, the newly redesigned spa Janissa embodies the island's natural products — nutmeg, orange and coconut — into its treatments. The 90-minute signature massage includes a foot paraffin treatment. spiceislandbeachresort.com
With only 30 suites, The Calabash Hotel & Villas can afford to do solitude so near St. George's.
The newly opened Heaven and Earth Spa is just that; overlooking the sea, treatments using local spices are conducted in beautiful wooden rooms. Of note are the Hydrotherm massages taking place on mattresses filled with warm water. calabashhotel.com