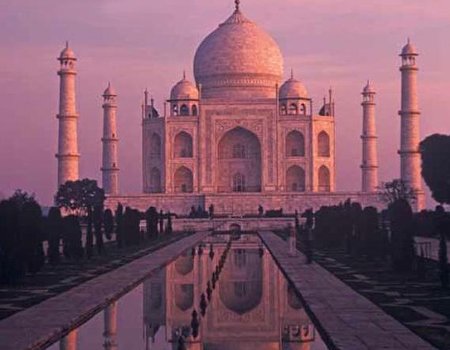 From snow-dusted Himalayan peaks to dense Keralan jungle, ancient spirituality to Goan beaches, India is a place of inspiration. Home to a billion people, it offers bustling mega-cities such as Delhi and Mumbai; the colourful medley of Hinduism, world-class cuisine and unforgettable landscapes. See tigers in their natural habitat, smell fresh spices in a plantation or visit a breathtaking range of architectural wonders. And that's without mentioning the beaches. The best time to visit is between October and March, although the summer months, with their warm monsoon rains, are generally considered most suited to ayurvedic treatments.
The place to be: Agra
A city on the banks of the Yamuna river in the Northern state of Uttar Pradesh, visitors flock to Agra to see the Taj Mahal, the architectural marvel built as a mausoleum for Mughal emperor Shah Jahan's favourite wife, Mumtaz. It took 20,000 workers, masons and jewellers 22 years of constant labour to build this perfectly symmetrical monument. One of the new Seven Wonders of the World, it remains perfectly preserved, and between two and four million people come to stand in front of it each year. The Indian poet Rabindranath Tagore called the Taj Mahal 'a teardrop on the cheek of eternity'.
The Hotel: Kaya Kalp
The designers of Kaya Kalp, India's newest spa, have attempted the ambitious feat of recreating the grandeur of the Mughal dynasty. There are channels of running water, fountains and outdoor rain-water showers, courts full of greenery and interiors embellished with stone latticework and mother of pearl. An open-air pool is surrounded by fruit trees, while an orchard walkway leads to a bird-watching trail and butterfly park. It's luxury on a mind-boggling scale, where one can truly imagine being an emperor. www.itcwelcomegroup.in/kayakalp
The spa: With its silk-swathed treatment rooms and red pomegranate murals, the Kaya Kalp's Royal Spa is a wonderful experience. As a favourite of the Mughals, pomegranate is a continual theme, and fresh juice is served alongside therapies.
The product: A range of lotions, potions and scrubs created from pomegranate — what else.
The treatment: The three-hour Taj Mahal Romance package combines the healing remedies of the east with the powerful gemstones designed to open the chakra points.
The best bit: Enjoy a tantalising spa fruit platter focusing on the indigenous fruits of Agra.
Alternatives
Located in the tranquil Himalayan foothills, close to the mythological cities of Haridwar and Rishikesh, Ananda combines Ayurveda and yoga with the best of international spa treatments to bring about the union of mind, body and soul.
Neemrana Fort-Palace in Rajasthan unites majestic surroundings with world-class Ayurvedic treatments. Bask by the open-air pool with views over Neemrana village, or take advantage of the free yoga and meditation classes. You can even enjoy a camel ride.