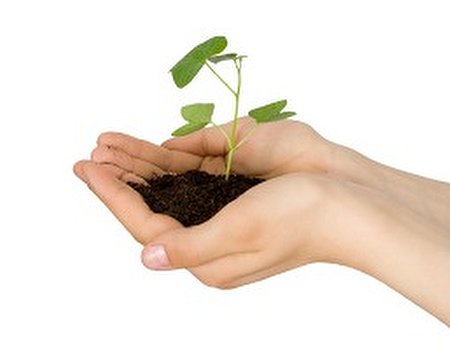 Charmaine Yabsley looks at treatments inspired by Mother Nature, from crystal therapy to salt caves.
Ever since the Greeks first slathered themselves in mud and the Japanese discovered the soothing qualities of hot natural springs, people have turned to the earth's natural resources to pamper and cure themselves. Today, natural treatments are becoming more popular than ever — and not without good reason.
While many drugs have side affects, a recent report by the educational charity Women's Environmental Network revealed many beauty products may contain ingredients that can impair fertility, increase the effects of ageing and have links to cancer, allergies and other distressing health problems. However, most of these ingredients — including parabens — can be avoided if you opt for organic, naturally-derived products and spa treatments.
As most of us become increasingly aware of what we put into — and onto — our bodies, natural remedies that won't harm our skin or our environment are undoubtedly the way forward with new facilities such as salt rooms popping up in the UK. Indeed, the number of people looking for such therapies has increased dramatically in the past 10 years and, in Britain alone, the industry is worth around £130 million annually. So why not follow in the footsteps of our ancestors and try a treatment which uses elements derived from the earth? After all, you'll be treating your body with products it will naturally respond to, rather than trying to induce a chemical change, and natural treatments will also help you connect with your mind, body and soul.
So if you're feeling stressed, under the weather or simply in need of a pick-me-up, it's time to book yourself a treatment. One way to select the best one for you is to speak to a spa manager — they're qualified in tailoring treatments to suit your needs. In the meantime, here are four of the hottest natural remedies to give you a taste of what you can achieve if you unleash the power of Mother Nature.
BEST FOR ... Dry skin, detoxification
Mud Therapy
The procedure: Being covered head to toe in mud may not sound particularly pleasurable, but it seems that certain soils, mixed with a little water, could hold the secret to smooth skin and wellbeing. While mud baths and packs are pretty straightforward, some mud wraps involve being slathered in mud and then wrapped in foil, while others cover you in bandage-type material or blankets. In both cases the mud will dry and harden and, after around 20-30 minutes, the mud will be removed using light exfoliation.
Alternatives include Rasul mud rooms which involves you (or a therapist) slapping on different types of mud and sitting in a warm, steamy, room while the mud works its miracles.
The benefits: Designed to help soften and exfoliate the skin, the minerals present in the mud help to detoxify your system while drawing out any impurities. Mud is also said to help skin ailments, such as scarring, psoriasis and rosacea. Ideal for winter-tired skin, a pre-holiday treat or as part of a detoxification process.
Did you know... The skin is the body's largest organ and its main point of absorption for everyday toxins. Up to 60% of ingredients in body products will be absorbed through the skin and into the bloodstream.
BEST FOR ... Sore & tired muscles, insomnia & stress relief
Hot Stone Massage
The procedure: This treatment uses both hot and cold smooth stones of various shapes and sizes to massage sore muscles and relax your entire body. Usually made of basalt, as this rock absorbs and retains heat well, they are typically warmed in hot water to a precise temperature. The stones are then placed on specific points of your body thought to be energy centres in order to rebalance the body and mind.
You may also be given a warm stone to hold in each hand to help 'ground' you, depending on the practitioner's way of treatment. The therapist will then massage your oiled body with a stone using light, repetitive strokes, gradually applying more pressure if necessary.
The benefits: The theory is that the warm stones will cause your muscles to relax and your blood vessels to expand, helping blood to move faster around the body system and increase the detoxification of the lymph glands. Known as 'vascular gymnastics', your body will feel relaxed, renewed and energised, and you should get one of the best night's sleep you've had in ages.
Keeping this in mind, always try to book an appointment for late in the day to achieve the full benefits. Many hot stone treatments, such as LaStone Therapy, a trademarked style of hot stone massage, also incorporate cold stones to help soothe, reduce swelling and puffiness. Be sure to discuss with your therapist what you hope to obtain from the massage so that it can be tailored to your needs.
The details: Hot and Cold Stone Therapy, from £160, at Dorchester Spa, London. thedorchester.com. Or visit lastoneuk.co.uk to find a therapist or retreat offering LaStone in your area.
Insider Tip... Don't be shy to say if the stones are too hot for comfort! Also remember that even if your main aim is to reduce muscle tension, this treatment can cause your body to detoxify. Drink as much water as possible pre- and post-treatment and avoid alcohol for at least 24 hours afterwards.
BEST FOR ... migraines, stress relief, fatigue & lethargy
Crystal Therapy
The procedure: Crystals are considered to possess powers capable of unblocking energy points and alleviating ailments, such as depression, as well as boosting energy and mood levels. For a practitioner to assess the correct crystals for your needs, your treatment will usually include a consultation to discuss any physical ailments as well as mental and emotional ones.
Once the therapist has decided on the best crystals to use, you'll lie on a massage table, concentrating on your breathing, while various crystals are placed on your 'chakras' — the energy meridians in your body. It's believed crystals can help to unblock or energise these meridians. It is not uncommon to feel weepy or emotional during this time, so go with the flow!
The treatment usually takes around 30 minutes, during which you'll listen to soft music or just lie still. Some therapists will discuss any emotions or physical feelings that may have arisen for you during the treatment and prescribe crystals to place around the home.
The benefits: Can provide calm and stress relief in a busy world; boost your mood; and prevent migraines. Many people claim crystals help relieve arthritis or joint pain.
The details: Visit crystal-healing.org to find a therapist in your area. Ragdale Hall offers crystal therapy from £65 per session. ragdalehall.co.uk
Did you know... Each crystal supposedly has its own healing properties to influence a person's emotions or energy levels. Here's some suggestions on what could work for you.
Tiger's eye: Can relieve stomach ache.
Aquamarine: Helps communication and soothes sore throats. May also help fluid retention.
Rose quartz: Often used to calm problem skin.
Smoky quartz: Balances emotions and dispels negative thoughts.
Hematite: Stimulates iron absorption and oxygen supply to the blood.
BEST FOR ... Allergies including asthma, hayfever & sinusitis
Salt Caves
The procedure: It may sound like something from the dark ages, but salt caves have been used in Hungary for years to treat respiratory and skin complaints such as eczema. Recently launched in the UK, it's hoped the 20 million Brits who suffer from allergies may benefit from this salty treatment.
The cave resembles an igloo — white walls and a bone-white beach-like ground — but the air is dryer than usual, which is due to the dry saline diffuser. Patients usually sit within the cave for one hour listening to relaxing music.
The benefits: Most users with respiratory disorders report immediate relief, such as breathing deeply and freely for the first time in days. Because salt air is an anti-inflammatory, it helps to clear inflamed sinus passages and shrink the lining of the nose so that the sinuses can drain more easily. Most clients require several visits for long-term results, but when the benefits are deep slumber, easy breathing and fewer allergic reactions, it's worth the effort. Salt caves are also suitable for kids as the treatment is 100% drug free.
The details: The Salt Cave has two facilities in the UK: one in Earlsfield and one in Kent. A third opens this autumn in London's Pall Mall. A one-hour session costs from £35; one year's membership £1,400. saltcave.co.uk