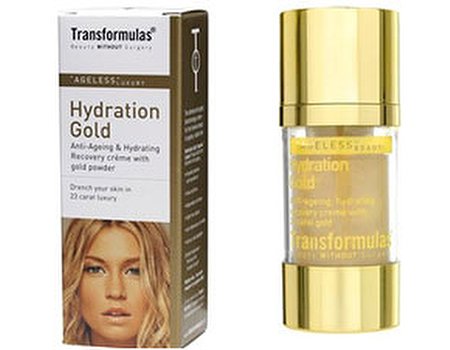 In recent months gold has proven it should be valued for more than just its place in our purse; it's also worth a lot in terms of looking after our skin. With gold facials cropping up on spa menus across the country, beauty fans have gone mad for its metallic goodness – and now it's appearing in the products that are stacked in beauty hall shelves too.
Transformulas, a brand that is well-loved by Simon Cowell as a cheat to getting that youthful appearance without surgery, has launched the Ageless Luxury Hydration Gold skin cream that's packed with 23 carat gold in powder form. Promising to hydrate your skin while giving you a gentle golden glow, this product is the ideal companion for your holidays this summer. Without clogging up pores, this shimmery moisturiser will work with skin to hydrate from the outside in. We tried it out to see if we'd strike gold with this little wonder...
The product
Developed by beauty queen Rosalind Chapman who wanted surgery-like results without having to go near any knives or syringes, Transformulas is an exclusive British brand that uses pharmaceutical technology and cosmetic knowledge to create result-driven products. The Transformulas range varies from makeup that gives an immediate transformation to moisturisers and anti-ageing creams that give the appearance of youthful skin with continued use.
The Hydration Gold cream is an anti-ageing product with a difference; while using gold to give the skin a luxurious shimmer and perk up dull and tired skin, the active hyaluronan ingredient (nicknamed 'the fountain of youth') helps to counteract the build up of toxic substances that lead to the breakdown of skin.
The treatment
The first thing you'll notice with this product is the packaging; a gold bottle with a pump that appears with a quick twist of the lid, it'll certainly look good in your makeup bag this summer. The cream has a serum-like consistency, much like a cream highlighter that you would normally use on your brows and cheekbones. Though on first look it's bright gold in colour, the product blends seamlessly into the skin to reveal a super subtle shimmering glow.
As well as using all over the face as a replacement moisturiser, the Transformulas team suggest using it wisely in certain areas for definition that tricks the eye thanks to its shimmery effect. Use over cheekbones and even on eyelids to brighten tired peepers, or even dab a small amount along the Cupid's bow (the middle dip of your upper lips) to make lips appear plumper. A thin line down the centre of the nose will also give the appearance of a slimmer face – who knew?
The result
This little pot of gold and its glamorous packaging impressed me for unexpected reasons; far more than just a golden glow, it shimmers as well as moisturises so that skin appears plumped up and in good condition. Though daunting at first, the yellow-gold cream really does go a long way, so one drop is all you need to give your skin a boost.
The gold is subtle enough to act as a highlighter, and doesn't settle into fine lines and wrinkles like so many products often do. After blending well, skin feels supple and brightened, making it great as a base to pep up skin in the sunshine and enhance a tan. I also loved how it felt, with no stickiness or creasing; it felt as soft as my regular moisturiser and had a gentle refreshing fragrance.
Here at Wahanda HQ, we'll be topping up our cheekbones with this all summer long for a hint of sparkle that doesn't look like we fell in a pot of glitter. Forget expensive gold jewellery boys, the best way to treat your lady to a bit of bling is with little clever find...