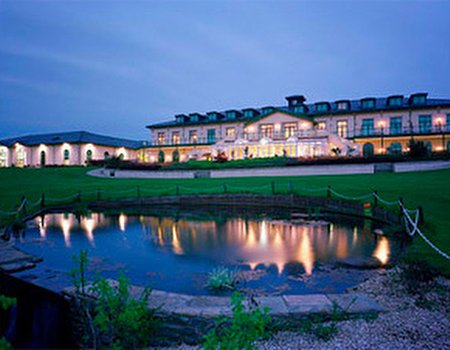 Being the health and beauty experts means that we're sometimes lucky enough to venture out of the office and dabble in wonderful wellness experiences - entirely for research purposes of course. Whether it's trying out the latest anti-ageing facial or testing a new fitness class, we pride ourselves on being in the know about the latest and greatest developments in the world of wellbeing.
As the Olympic crowds flooded into London, we chose to head out of the Big Smoke and into the green pastures of sunny Wales on a luxury spa break, courtesy of our lovely boss Lopo. As soon as we arrived at the grand four star Vale Resort on the outskirts of Cardiff, we all knew we were in for a real treat...
The venue
Set within 650 acres of stunning Welsh countryside, but located just six miles outside the city centre, the Vale Resort is Wales' highest rated four star hotel. With 143 bedrooms, an award-winning spa area and two championship golf courses - the Wales National and The Lake - we were confident we'd find something to help every member of the team chill out and de-stress.
The Vale Resort is widely recognised as one of Wales' most sophisticated retreats and represents the ultimate in relaxation. Since opening in 1988, the spa has remained the largest in Wales with 19 treatment rooms and is a popular training ground for both the Welsh rugby team and Cardiff City FC (though sadly, we managed to spot neither squad on our visit). We were also told that if you're lucky, your visit may even coincide with that of Manchester United, Arsenal or Liverpool, as the football clubs sometimes train on the outside pitches which were built to FIFA's specifications.
If you're after a little bit more than treatment-fuelled relaxation, a visit to the squash and tennis courts will help you work up a sweat, or simply speak to staff at the hotel who can help organise an outdoor adventure of your choice – we spotted chances to try archery, paintballing, quad biking and clay pigeon shooting to name just a few.
The treatment
After we had enjoyed lunch in the bar, we set out to explore the spa and gym area (which is almost a whole building in itself). The ground floor houses a fully equipped gym and upstairs we found 19 treatment rooms and three relaxation zones - including a serene 'chill' zone, a 'float' zone with floatation water beds to comfort every muscle and a candle-lit Indian-inspired 'slumber' zone complete with super-soft quilts.
For a rejuvenating treat, some of us decided to dive into the treatment menu and picked out a pampering experience. As part of our spa break, our team were able to choose between a Clarins Diary Date facial, a back and shoulder massage or a luxury pedicure or manicure. In the end, all three gained the Wahanda seal of approval as we emerged feeling calm and rested.
Once we were all fully cleansed, massaged and prettified; a number of us headed through to the 20 metre swimming pool to do a few lengths before sweating out toxins in the steam and sauna rooms. While many of the team then chose to sit back and relax in the Jacuzzi overlooking the lush gardens, a few decided to venture out into the summer sunshine and managed to stumble across a nearby farm.
The result
After relaxing in the spa, the team enjoyed getting all dressed up for a sumptuous 4 course dinner that saw us dine on salmon fishcakes, locally sourced Welsh beef, a heavenly raspberry crème brulee and a selection of cheese and biscuits, all washed down with delicious wine and coffee. Food fans will be pleased to hear that an extensive Welsh breakfast was served up the next morning, which featured locally made sausages, scrambled eggs and a selection of cereals, yoghurts, fruits and breads.
Of course when booking a spa break, it's important to consider the hotel bedrooms – after all, why splash out if you're not rewarded with a few home comforts?
Our bedrooms were much larger than most of us had ever experienced - some came with balconies to sit out on and admire the picturesque views, and the luxurious bathrooms contained not only a large power shower, but also a bath. The beds were also another hit and provided us all with a great night's sleep (especially valuable for those who chose to head off into town to experience Cardiff's nightlife).
At the end of our stay, the entire team left with smiles on their faces - we felt relaxed, rested and refreshed. From massages and manicures to top class meals and outdoor facilities, The Vale Resort gets a firm thumbs up from us.
If you fancy heading West and checking out our luxury break at the Vale Resort and Spa, we've got a selection of offers including spa days, spa breaks, massages, facials and fitness deals that will guarantee you a truly memorable Welsh experience. We don't know about you, but we're planning our next trip to the Valleys already...