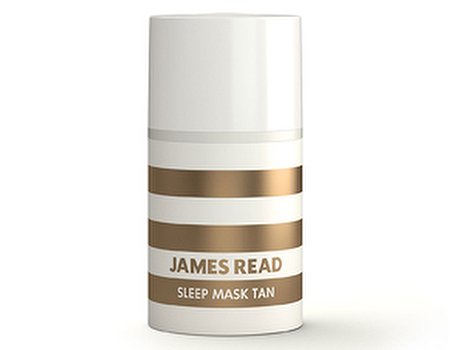 After years of trying to find a self-tanning product that manages to not a) turn streaky, b) leave that tell-tale biscuit smell and c) stain every piece of fabric I touch, I hoped that my hunt for the holy grail of tanners was over after the launch of James Read's Sleep Mask Tan. Promising to not leave a mark on sheets and to help you wake up looking like a beach goddess, this is one tanner that sounded too good to be true…
The brand
With over 12 years in the tanning industry and a contacts book that includes anyone and everyone from Lady Gaga and Clive Owen to Beyonce and Mariah Carey, James Read is the man in the glow know. After working at fashion shows and high profile ceremonies such as the BAFTAs and the Grammys, James began his tan menu in the Sanderson Hotel before launching his range of at-home tanning products. Packaged in white and gold striped bottles, the James Read tan range is inspired by the honey-gold tan of the 1970's, and we've fallen in love with it.
The product
Packed with skin-loving ingredients such as hyaluronic acid, cucumber and aloe vera, James Read's Sleep Mask Tan helps to keep skin moisturised overnight and is designed to give you a golden glow while you sleep. By combining moisturising ingredients and tan together, the clear gel melts straight into the skin without leaving any greasy residue or a dry, tight feeling on your face and neck. You only need to use a small pea-sized amount each application too, meaning that despite being petite, this bottle packs a punch when it comes to having a long-lasting tan.
The result
Smoothing the product on after a hot shower before heading straight to the land of the nod, I was pleasantly surprised at how quickly it absorbed and left my skin feeling moisturised. With the ultimate tanning test being on the amount of staining on the sheets, this is the one product that didn't leave behind a dirty tanning smudge – in fact you couldn't even tell that I'd been tanning from my bedding. My face was left a light golden colour and looked like I'd spent a few days in the sun - the team at work even commented on my glow too. Usually I get teased for sporting an overly orange look, so this was a highly welcomed change. At £25 a bottle, James Read's Sleep Tan Mask was a little over my usual budget for tanning, but with only a small amount needed (and the lack of washing powder needed for my bedsheets too) this is one product that I'll keep buying over and over again.