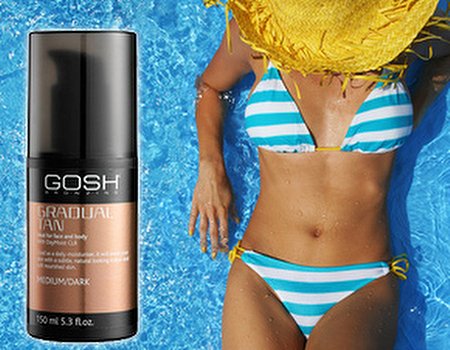 If your summer holiday is a little far away and you've been too busy to soak up the sun, it's time to fake it. For a bit of colour to perk you up, makeup brand GOSH has a lovely gradual tanner that's ideal for subtly imitating that just-stepped-off-the-beach look. After years of playing around with fake tans and waking up a little streaky or just a tad too orange, it's just what we needed to get a gorgeous glow...
The brand
Exclusive in the UK to Superdrug stores, the Denmark-based GOSH brand is a low-price but high-value range of cosmetics. Starting out as a family-run pharmaceutical company in 1945, the company quickly expanded to create toiletries, fragrances and cosmetics. Focusing on keeping their products purse-friendly and offering a wide range that consistently keeps up with the latest fashion trends and on-season colours, GOSH makes both you and your makeup bag look good.
Reaching out into the self tanning area, GOSH has developed a number of fake tans to suit all skin tones, including a self tanning formula for a darker glow, wash off tans for an easy way to prep for a night out and a gradual tan for a slow transformation into a beautifully bronzed goddess. With the sunshine not making many appearances this year, we're testing the gradual tan for a radiant everyday look that doesn't make it obvious that we're faking it.
The product
GOSH Gradual Tan is designed to be used as a daily moisturiser, to perk up skin and give a healthy and natural looking tan. Enriched with moisturising ingredients such as aloe vera, Shea butter, goji berries and sweet almond oil, it softens skin while leaving you ever so lightly bronzed all day long.
As a fake tan addict, I was dying to give this a go. After trying many of the lower priced supermarket brands and other luxury tanning brands such as the iconic St Tropez and Rodial, I still wasn't fully satisfied with both the colour and scent of any one product. Although a natural brown shade may look fantastic and last all week long, that biscuit smell that lingers is a tell-tale sign that the glow you're rocking is completely out of a bottle.
GOSH's gradual tan in its sleek black and bronze design looks high-class and, amazingly, this product doesn't have that classic fake tan fragrance at all. With a light texture, the cream leaves no irritability and no tightness on the face like others often do, and it sank into skin easily enough to apply makeup on top only a few moments later.
The result
A great way to pep up pale skin tones without risking your health by sitting in the sun, the GOSH tanner felt smooth on the skin and smelt even better. With no oiliness that clogs up pores, it was almost impossible to tell that I was wearing any product. A few days later, my face looked tanned enough to go without base makeup and no breakouts had occurred - a usual aftermath when trying out a new faux tan.
As a self proclaimed fake tanning expert, it was surprisingly a big hit. It felt great, smelt fantastic and is priced under £10 – a fabulous tanning product to have on anyone's bathroom shelf. Golly gosh, we just can't praise it enough....