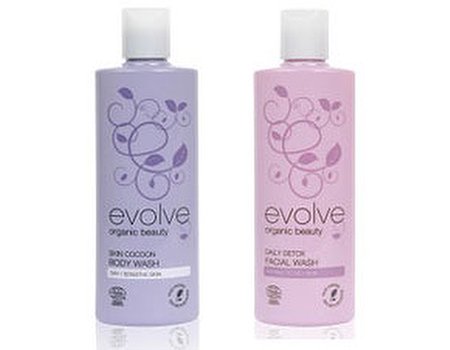 With the beauty world putting more and more focus on which ingredients are used in our lotions and potions, we're constantly sniffing out organic products to pamper ourselves without using chemicals that will strip our skin of its moisture. Treating our skin to a smothering of organic and natural ingredients, Evolve products tick all the right boxes for us here at Wahanda. Not only are they made on our home soil here in Britain, but the 99% natural skincare range is suitable for vegans too.
The brand
Set up in October 2009 by Laura Rudoe after deciding that the natural products found in health shops weren't quite up to scratch, the Evolve brand is a way to enjoy a little piece of affordable luxury. Packaged in eco-friendly and recycled bottles, you can give yourself a pat on the back for being green as well as looking after your skin.
The products
Both the face wash and body wash are packed with 99.6% natural products - 20% of which came from organic farming. Conscientious pamperers will be pleased to know that they've got their badge of honour and are certified by the Ecocert standard.
Skin cocoon body wash: Used to whip up a lather over skin or for pouring into the bath for a sweet-smelling hot soak, the skin cocoon body wash cleanses the skin without the use of parabens or other chemical nasties. As organic sugar and coconut cleanse the skin without stripping any of its natural moisture, organic aloe vera revives dry areas with a dose of moisturiser and natural peptides boost moisture levels.
Daily detox facial wash: Suitable for normal to oily skins, this delicate daily detox facial wash gives skin a mini-makeover. Ideal for city dwellers, the natural sugars cleanse while African Moringa seed gets to work at de-polluting the cells. Goji berry extracts protect against further free radical damage while aloe vera moisturises overworked skin – perfect to wash away the day.
The result
Skin cocoon body wash: Recommended for dry and sensitive skins, the coconut and sugar extracts make this a sweet treat that conjures up images of toffee or caramel puddings with its strong scent. Not for those who like a neutral wash with zero fragrance, this is a perfect addition to the shower for a refreshing start to the day. Plus, thanks to its eco credentials this natural product won't harm any organisms as it travels down the plughole.
Daily detox facial wash: After massaging into the skin, this product felt slightly drying and is more suitable for those who tip the scale on the oily skin factor. Designed to give the skin a good deep clean, this product may be a tad too much for normal to dry skins who would rather a hydrating product - but if it suits your skin type it really will leave it squeaky clean and ready to face the day.
Want to try it for yourself? Evolve products start from £9.99 and are available from evolvebeauty.co.uk