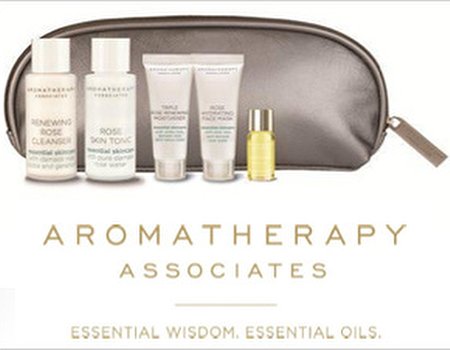 Roses are red, violets are blue, this rosy Aromatherapy Associates set is divine, and perfect for you. As miniature sized bottles of products and potions are becoming increasingly popular as a purse-friendly way to sample high-end products, leading aromatherapy brand Aromatherapy Associates have brought out two miniature sets of their favourite ranges - one for anti-ageing and one for all skin types.
The rose-based Essential Skincare Introductory Set includes miniatures to clean and refresh the face, and face oil and a face mask to quench dry skin. With stressful lives and equally stressed skin, this set is ideal to carry in your handbag for a pick-me-up throughout the day or for weekends away to leave you smelling of roses – and we couldn't wait to give it a try…
The brand
Aromatherapy Associates specialise in mixing the benefits of aromatherapy with everyday skincare products, to create a more luxurious and natural way of caring for the skin. Splitting their products into easy-to-understand ranges such as Enrich (for dry skin) and Support (containing mild essential oils for a gentle pick-me-up), they bring the benefits of plants straight to our bathroom shelf.
The product
The Essential Skincare Introductory Set is a delightful five-piece set of miniatures in a stylish metallic bag. Perfectly portioned for quick getaways, this set includes the Renewing Rose Cleanser, Rose Skin Tonic, Revitalising Face Oil, Triple Rose Renewing Moisturiser and Rose Hydrating Face Mask.
Rose Skin Tonic - Made from pure damask rose water from thousands of Bulgarian rose petals, this tonic leaves skin feeling squeaky clean and refreshed. After cleansing, apply a small amount of the rose skin tonic with a cotton pad and wipe over skin. It removed the last remnants of make-up and left skin feeling clean, not tight unlike other toners.
Revitalising Facial Oil - This sweet-smelling oil contains rose, frankincense and borage to restore radiance and vitality to dull skin, while essential oils such as peach kernel oil, jojoba and geranium promise to leave the skin feeling nourished. Borage encourages the production of collagen while frankincense rejuvenates and tightens the skin.
I have to admit I felt slightly nervous about trying facial oil. Having oily skin that's prone to breakouts, the prospect of putting more oil onto my face never seems like a good idea. You only need a minuscule amount - a little certainly goes a long way. The name 'oil' shouldn't lead you to think it's going to be greasy and only suitable for dry skin, as it absorbs quickly to leave a shine-free and smooth finish. I was impressed!
Triple Rose Renewing Moisturiser - This fragrant moisturiser, made from white, damask and maroc roses, includes anti-oxidants and anti-ageing qualities to rejuvenate the skin on a daily basis. As the last part of the suggested daily routine, this moisturiser glides onto skin and smells divine – the perfect end to a spot of home pampering.
The result
As a fan of aromatherapy and all things miniature, the set has got my vote and is a great way to dip a toe into the world of essential oils if it's all a little new to you. The rose scent was refreshing and not overpowering, and the oil was surprisingly my favourite out of the bunch despite my fairly oily skin – it seemed to balance it out as well as leaving me super soft for when I awoke the next day.
Both kits are £30 and can be bought from the lovely Aromatherapy Associates spa, and to learn more about oils and what they can do, check out their very own Geraldine Howard's expert blog.