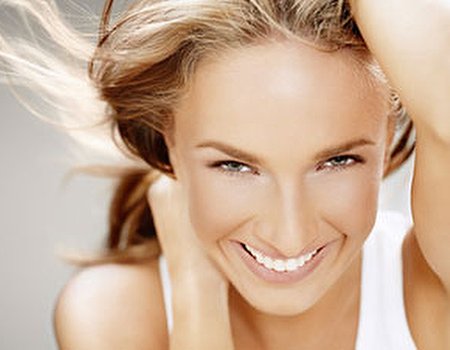 The Olympics are very nearly here and although the athletes will be gearing up for their big days in the hope of winning a medal, their beauty and health regimes are still a priority. Looking great and feeling great is important and no shortcuts should be taken when preparing to be your best, particularly when the nation is watching. The 2012 Olympics in the capital sees a whole host of health and beauty brands standing by to prettify the stars as all the world's eyes zoom in on the winner's podium – here's a sneak peek at how they'll do it...
Nails
The fabulous nail stylist to the stars Sophy Robson has partnered with P&G to make the athletes and visitors who are part of the Olympic events look nail-fabulous and show their support for their team. Situated in both offsite and on-site salons, Sophy and her team of 18 technicians are ready and waiting to paint any of her 214 bespoke national flag designs onto talons. Whether you're backing one country or ten, wave the flag on your hands in serious style.
Sophy said: "I was honoured to be asked to do nails at this year's Olympics. To be a part of such a historical and once in a lifetime event is an opportunity you cannot miss. I have also become fascinated by some of the unique designs on some of the country's flags and how I could translate them on to a nail surface. Seeing them come to life on the athletes and visitors at the Olympic Village makes me too proud for words."
With previous clients including Kate Moss and Alexa Chung, the NailPorn salon's owner and her team had a surprise this week when London mayor Boris Johnson popped by the Olympic Village to get a quick manicure (unfortunately no sign of mini Union Jack designs though!), and Sophy recently tweeted that Serena and Venus Williams and One Direction are keen to join the queue for the hottest nails in the Olympic town. We might have to try our hand at nail art to get into the spirit…
Teeth
A medal win deserves an accompanying winning smile, and athletes from across the world will be able to receive free dental treatment at the newly constructed Polyclinic at the Olympic Park. Perfect for when consuming sugar-filled energy drinks as part of their day-to-day regime that can lead to decay and erosion, the specially constructed clinic can deal with dental problems that some athletes may not have access to in their own countries.
Karen Coates, a Dental Advisor at the British Dental Health Foundation said: "Looking after your oral health not only has great benefits for your mouth, but also for your overall health too. However, by consuming too many sports and energy drinks, athletes are at risk of dental erosion.
"This is the loss of tooth enamel caused by acid attacks, a process that can be triggered by consuming fizzy drinks too often. Enamel is the hard, protective coating of the tooth, and if it is worn away, the dentine underneath becomes exposed and teeth can look discoloured and become sensitive."
Make-up
When it's time to shine, one thing that could let the side down is less-than-perfect make-up. Max Factor has revealed their make-up design which will be worn by all the female athletes and medal presenters when athletes are presented with their medals throughout the Olympic and Paralympic victory ceremonies.
Makeup artist Caroline Barnes, whose clients include Kylie Minogue, has created a stunning makeup design using purple and gold hues from Max Factor's collection to reflect the colours of this year's Games, and plays with light and dark tones to create a sophisticated look.
Caroline said: "I wanted it to encompass everything the Games are about, so it represents wellbeing; it's natural and fresh and will give each of the wearers a lovely healthy glow."
Alongside the Max Colour Effect Trio Eye-shadow in Coco Crazy for the eyes, Caroline will also use the Max Factor Lasting Performance Foundation, the Miracle Touch Creamy Blush and the False Lash Effect Gold Mascara and Liquid Effect Pencil in Violet Voltage for extra bright peepers – so make a quick dash for your nearest Max Factor counter to recreate the winning looks at home.