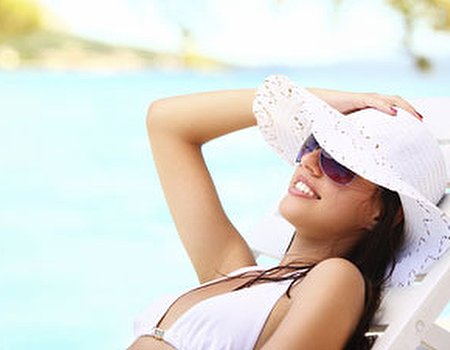 With summer finally here we're in full beach body mode. Gone are the tea breaks with a biscuit on the side - we're focusing on regular exercise and enjoyable low-fat foods to prepare for our upcoming holidays. Whether you're counting down the days until you step out with your suitcase or fancy toning up now that we've swapped our coats for glamorous maxi dresses, we've sniffed out all the best expert tips on how to prep for summertime - right from under our nose in the Wahanda community.
Hair
What to do with my hair on holiday?
Don't be a hair raiser on holiday. Hair can either be your best friend, or your worst nightmare - if you're one of the lucky ones whose hair transforms into loose curls that leaves you looking oh-so-stylish when you emerge from the sea, we're very jealous. If, like us, your hair decides to take on its own crazy and unmanageable form then consider trying a keratin treatment before you head off for long lasting super-smooth hair. If it's dry hair that's creating a problem in the sunshine, choose a good quality UV protecting leave-in conditioner to coat hair while you relax.
Waxing
Can hot wax be used on very sensitive skin?
Waxing is the perfect way to stay fuzz-free on holiday. By using warm wax or sugar paste to pull the hair out from the root, even the most sensitive of skins can shave off time with a good wax before you fly away into the sunset. Suitable for legs, underarms, arms, face, bikini line and anywhere else you're fighting the fuzz, don't be held back by constant use of the razor and stay as smooth as a baby's bottom with minimal effort.
Manicures
What's the best way to stop nail varnish chipping?
Say no to chipped nails and treat yourself to a two week manicure. A revolution for nail varnish lovers, these are guaranteed to look as fresh as a daisy for at least two weeks. Try Shellac, Gelish or Jessica Geleration where a special formula is applied to the nails and popped under a UV lamp, and voila - super shiny and smooth long lasting talons. The only place for chips is with our fish, not on our nails...
Eyebrows and eyelashes
How long do eyelash extensions usually last?
Love lying out beside the pool but feel a bit bare without your usual eye makeup? Try an eyelash treatment to curl, tint or extend your natural lashes for a wide eyed look with minimal maintenance. Usually lasting for up to two weeks and giving you anything from a slight tint to a full false lash effect, an eyelash treatment is the perfect way to bare all on holiday with the right amount of help to keep you looking your best.
For perfect peepers, an eyebrow treatment will help to frame the eyes and give definition, so if you're in search of the perfect arch or can't part with your eyebrow pencil, why not try threading, waxing, tinting or HD Brows to perfectly frame your face ready for all those holiday snapshots...
Body
How do you get ready for bikini season and lose those last few pounds?
If you've got time before your holiday and want to look even more fantastic when you don your bikini, try our guide to toning up specific areas. Whether you fancy amazingly toned supermodel legs or a washboard stomach, our targeted toning guide can help. For a quick fix to lose any extra weight, treat yourself to a full body wrap or lymphatic massage to encourage toxins and excess water to leave the body. After a few sessions, it's averaged that you can lose around 6 inches, so what's stopping you...
Got a question? Head over to our community page and ask our friendly experts who can help with anything from fitness tips to the best massages to hair treatments. In fact, they can help with pretty much anything, so ask away...