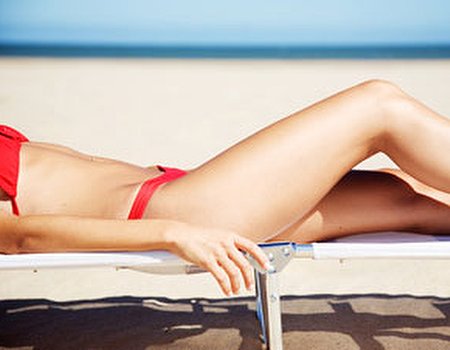 It's nearly summertime and that means one thing: preparation for the upcoming holidays. Whether you're jetting off abroad or enjoying a staycation at the great British seaside, there's a lot of buffing and polishing to do before you don the swimwear and get out into the sunshine. If you're feeling a little nervous about baring all, our beach body area is ready and waiting for you to treat yourself to some fab fitness deals and a spray tan or gel manicure along the way.
We've picked out some of our favourite questions about the upcoming holidays because let's face it, we all worry about the same things; that our bum looks big in this, we're a bit wobbly around the thighs and that our hair is going to frizz up like a lion's mane as soon as it gets a little humid. Never fear, as Wahanda's here and we have everything you need to keep you turning heads for all the right reasons...
Any advice on the best way to protect your hair while on holiday?
Hair can become a nightmare to deal with after it's been baked in the sunshine, suffocated in chlorinated pools and swished around in seawater. Protect it from the elements by tying it up in a funky headscarf or hide it under a trendy hat - or there are some fantastic UV protecting hair care products on the market to stop sunshine ruining pretty locks and stripping colour away.
What's the best exercise to get a flat and toned stomach?
Blast the belly flab for good. Getting a toned tum is hard work without the help of our trusty Spanx to pull us in and look super-trimmed, and the big reveal on the beach is enough to turn anyone's stomach in fear. Many people worry about their 'spare tyre' and at Wahanda we've got plenty of fitness deals to help trim that waist down so you can hit the sand with confidence.
How can you protect sensitive skin from the sun?
Sensitive skin can be a nightmare in the sun. Stay safe and cover up to protect from damaging UV rays with a high SPF sun cream, or try some new products on the market to keep skin well-armed for sun damage. Avene's SPF cream is a favourite with sensitive skins who are prone to prickly heat and flare ups, or for refreshing after sun to soothe burnt skin try a natural aloe vera gel packed with antioxidants to help skin repair.
Got a question? Head over to our community page and ask our friendly experts, who are ready and waiting to help you with everything from beauty problems to fitness tips...