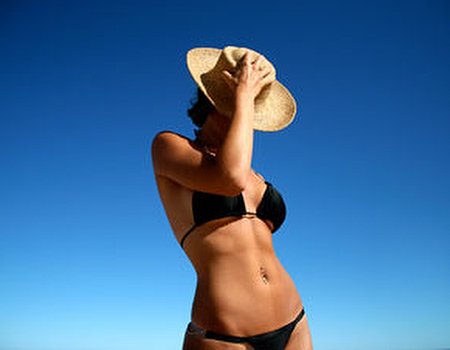 Since the original fake tan Coppertone hit the shelves in the 1960s, the bottled beauty buys have long been associated with an unattractive orange tone. However, times have (thankfully) changed and now we can all develop a streak-free golden brown tint in no time – good news for busy indoor types who want a convincing healthy-looking hue.
Most fake tans contain the chemical dihydroxyacetone (DHA) as the colour changing ingredient. Accidentally stumbled upon by German scientists in 1920 and derived from sugar beet and cane, this colourless sugar reacts with amino acids in the skin's surface to produce a brown tone on the skin. But thanks to the brains behind the beauty industry, there are now plenty of choices out there that develop that coveted colour in their own special ways. What will you go for?
Increase your melanin
The science part: That deep tan you love after a week in the sunshine is all down to melanin. Melanin is most commonly found in the deepest layer of your skin's epidermis, but can also be found in the hair, the eyes, and strangely, the inner ear. Produced by melanocytes, melanin naturally reacts in UV light and is responsible for turning our skin a lovely shade of brown. When the sun shines, our brain's pituitary gland (aka the home of hormones) is activated and sends out a stimulant to the melanocytes and our skin colour is slowly changed.
How to up your tan: The Elemis Sunwise Tan Accelerator is the safest way to enhance your melanin production in the run up to the summer sunshine or your holiday. By stimulating melanin production in advance, your tan may last a lot longer than usual. Also, the higher levels of melanin mean your skin is naturally protecting itself against the sun too – so this little wonder-tube is perfect for sensitive skins that burn easily. This moisturiser helps to nourish skin with macadamia and jojoba oil, so use it daily to activate your skin and prepare for the sunshine.
Instant tan
The science part: Gone are the transparent gels that were used to tan skin - now instant light colours are in, giving you a freshly faked look immediately while building up a long-lasting tan throughout the day. Thanks to the touch of colour, you're able to easily see where you've applied your product while also looking instantly bronzed. Moving on from tans that required you to wash off excess residue in the shower, new tanning products look believable right away - so much so that there is often no need to wash it off.
How to up your tan: The St Moriz Instant Self Tanning range is a miracle invention for tan addicts, and priced around the £3 mark you can't go wrong with this beauty staple. Hailed as the high-street's high-end product despite its low price, the chocolate cream glides onto skin and dries within seconds, leaving behind an instant veil of subtle tan that develops throughout the day. Using a mitt (the only downside to this product is that it stains hands quickly), lightly cover the skin with a thin layer to look bronzed for up to seven days.
Gradual tans
The science part: Weaker than its quick and glow sister, gradual tan slowly darkens the skin with each application. Containing a smaller percentage of DHA, the product has a higher ratio of moisturiser to tanning product – making it an ideal sun solution for dry skins. Lightly changing the colour of the top layer of skin, these gradual tanners build up the bronze with each application, providing a slow transformation from pale princess to glam goddess.
With the first mainstream gradual tanner being the Johnson's trusty yellow bottle a few years back, these tanners have moved on from a greasy formula that smelt highly of DHA to rich and velvety moisturisers that we love. The ease of application and subtle tones have made them so popular that many brands include small percentages of DHA into their products for extra effect, and many anti-ageing creams now incorporate it for a youth-boosting bonus.
How to up your tan: Even with hundreds of gradual tanners on the market, we can't resist the familiar scent of Palmer's Cocoa Butter Natural Bronze gradual tanning moisturiser. Packed with cocoa butter and vitamin E, this product is a must for all day long soft skin and a smell that is good enough to eat.
Far safer than sitting out in the sun and risking sunburn, fake tanning is the only way to go when it comes to looking stylish and summer-ready this season. Whether you smooth your glow on daily in a moisturiser, spray it on for a fast and flawless effect or try a new trick of science to develop into a bronzed beauty, tanning is now a modern phenomenon we can't bear to live without - so pick a tanning method that suits you and you'll never look back.