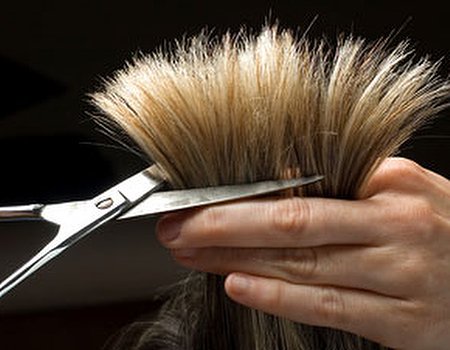 It's Friday 13th again, and though it happens at least once a year it's still thought of as a day to dread thanks to the well-known myth that it's an unlucky date.
The fear of the number 13 is termed triskaidekaphobia (we can't pronounce it either, don't worry) and worldwide the dodgy digit is often thought of as being unlucky or evil. Some planes, buildings and streets skip their 13th row, floor or houses due to the fear that it may bring bad luck.
Whether you're superstitious or not, we thought we'd pull together a few superstition-inspired health and beauty tips just in case…
Don't walk under a ladder
So they say that walking under a ladder is a big no-no, but has anyone ever thought to use it as part of their exercise regime?
One website suggests grabbing a ladder and laying it down flat. The steps you would usually climb now become dividers and make little squares. Try jumping in and it out of the squares created by the steps - a little like hopscotch from the school playground. Keep going until your legs have jumped all they can, and enjoy sending mental messages to those unlucky devils behind Friday 13th that ladders can be lucky…
Don't snip your hair
This is new to us, but apparently it's extremely bad luck to get a haircut on Friday the 13th – yikes. According to some traditions, if you cut your hair on the cursed day, you may do more than snip your own hair and end up snipping off a family member or loved one's life. Shocking!
Although it's just an old wives' tale, we reckon it's better to be safe and certainly not sorry by risking it. Treat those locks to a deep conditioning treatment at home, mash up an avocado for a super-shiny mane and enjoy your tresses for another day.
Beware of the black cat
Black cats are a sign of bad luck because of their association with witches and the devil, but do you resemble a bit of a black cat yourself? Under those trousers are you concealing a forest worthy of National Park status?
It's the perfect time to get ready for summer and enjoy a good old de-fuzzing session. Rid yourself of your resemblance to the unlucky felines and try some at-home methods for perfectly smooth pins. Forget shaving; try a sugar wax kit for a natural way to rip those hairs out of their sockets, leaving you hair-free for up to six weeks. Hair removing creams are becoming popular again, and new ranges have been designed for the busy woman by tailoring them to be waterproof – simply wipe on, shower (it will stay on!) and wipe off. Voila! Perfect legs that you won't be able to resist showing off. Meow!
Had a bad Friday 13th and need cheering up? Why not browse our spa offers and give yourself a treat…