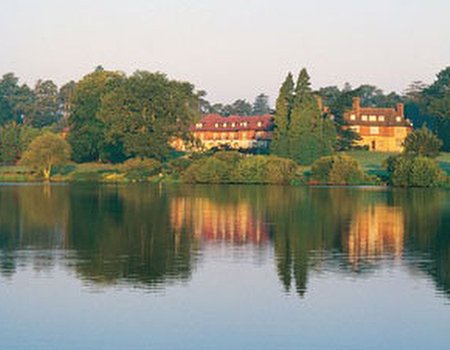 Oh, we do like to be beside the seaside… do you? If taking a quick dip is your favourite way to cool off and de-stress, the Champneys Spa in Forest Mere is the ideal place to head to for marine-themed treatments and some five-star water therapy. As well as massages and treatments, treat yourself to a double dose of healing water that will work magic on your skin and body. Bubble baths are so last season...
The spa
The Champneys Spa in Forest Mere is situated near the large village of Liphook in East Hampshire. Set in the rolling hills of British countryside, this hideaway spa was originally a hunting lodge as part of a former medieval hunting forest used by royalty. Now part of the South Downs National Park, this secluded property is hidden among acres of woodland for a right royal retreat. Overlooking a large lake, this spa is the ultimate tranquil setting for water lovers.
Treatments and facilities
With two swimming pools, sauna and steam rooms and sea-inspired treatments, Champneys Forest Mere is the best place to go if good facilities are top of your wish list. Take an energising swim in the 25 metre indoor pool to tone up muscles while getting the heart going, or take a dip in the heated outdoor pool to mix fresh air with gentle exercise while soaking up a bit of vitamin D.
Champneys was the first spa to introduce thalassotherapy to the UK, where elements of the sea are used to tone, moisturise and refresh the body while helping to improve circulation. A warm and mineral-rich pool at around 38°C opens pores to absorb all the goodness of various minerals such as magnesium and potassium - and the added bonus of hydrotherapy jets stimulate the body muscles while you lie back and relax.
For specific treatments that transport the ocean goodness to our bodies, our favourite way to absorb sea minerals is with the hour-long Elemis Aroma Spa Ocean Wrap that combines the power of the ocean with aromatherapy to treat all of your body's needs. Whether you want to rid yourself of aches and pains or detox and reinvigorate your muscles, the warm seaweed wrap will cocoon you in minerals that moisturise the skin from within, and you may find yourself losing a few inches in the process too.
Treat yourself
If you want to really lay back and drift off into the soothing world of water, the Aromatherapy Floatation treatment includes a massaging water bed treatment that will leave you floating on air with its simulated body weightlessness. Aromatherapy oils will soothe both mind and body and you might find yourself heading to the land of nod as the water bed takes all your woes away...