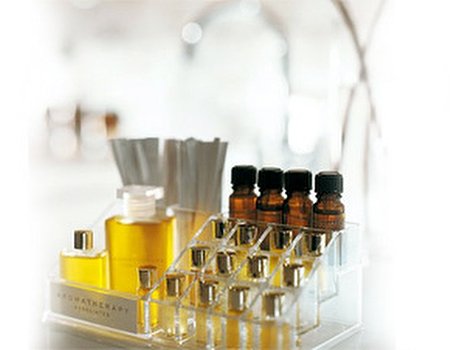 Sniff the air around you and take a deep breath. Dating back thousands of years through ancient Roman, Greek, Egyptian and Chinese cultures, aromatherapy is becoming more and more popular as a remedy for the stresses of modern life. The Aromatherapy Associates spa in central London combines the power of natural essential oils with personalised treatments, designed to cater for your individual preferences, favourite scents and skin type for a long-lasting and decadent experience. Sounds like a perfect contender for spa of the week to us…
The spa
Aromatherapy Associates has long been a favourite in the aromatherapy world. The business was founded by Geraldine Howard and Sue Beechey in 1985 after extensive training by essential oil experts, where they discovered the benefits of applying natural plant extracts and oils to different areas of the skin - and so the brand was born.
Located in central Knightsbridge, Aromatherapy Associates' luxurious first spa is a dreamy space far away from the hustle and bustle of the roads outside. Since opening in late 2011, it's already well known thanks to the unbeatable reputation of the existing products and the fact that most treatments last for up to 90 minutes, giving clients a real quality experience that harbours the power of the plant to leave them feeling renewed.
Treatments and facilities
The flagship store in Knightsbridge offers both a shop and a spa area. Stocking all of the Aromatherapy Associates range and even having its own Ingredients Bar - where customers can speak to expert aromatherapists about the benefits of different oils - this is a haven for those who love all things fabulously fragrant yet perfectly natural.
Deeper inside the store are three peaceful rooms that propel you away from city life into a blissful array of spa treatments. You can choose from bespoke skin polishes and facials to muscle-friendly massages, or specialist services are available that pinpoint specific areas of concern such as 30 minute long hand or feet treatments and instant eye refreshing remedies.
The spa is luxuriously kitted out with only the best in mind, so from velvet to Egyptian cotton and beautiful Italian tiles this is an indulgent place to lay back and unwind. Beginning with a consultation with your therapist to tailor-make your treatment, you can later enjoy a relaxation area stocked up with the finest food including macaroons, teas, fresh fruits, champagne and flavoured water. It's the little touches that make an unforgettable spa visit and the experts have made sure the essentials are readily available.
Treat yourself
Want to find out what oils can do for you? Head to our Aromatherapy Associates page where you can find out more and book your treatments, or check out our review of their gorgeous skincare kit – we're a little bit in love…