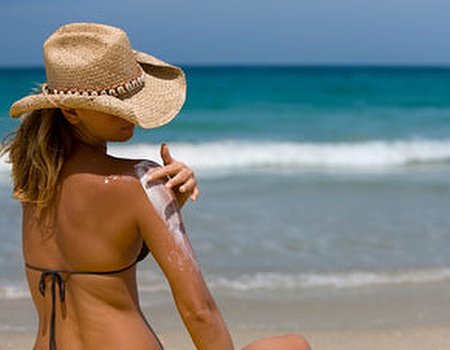 Summer's nearly here and the sun will soon put his hat back on, but how many of us will be joining in and putting our hats on to cover up? New research from La Roche-Posay shows that around half of the UK population don't wear sunscreen when the weather turns nice on our shores, and with over 100,000 new cases of skin cancer being diagnosed each year in the UK, it's a problem we need to fix.
On average, a shocking two thirds of sun damage is done before you've reached your 15th birthday from those pesky UVA and UVB rays emitted from the sun. To highlight Sun Awareness Week (30th April- 6th May 2012) and top tanning brand Fake Bake's Melanoma Month campaign, we've compiled the best ways to protect yourself from the harmful effects of the sun.
Sun protection creams:
There are still some major faux-pas in terms of our sun protection in everyday life. Even if the sky is grey, harmful cancer-causing rays are still being absorbed by the skin. It's recommended that you should wear at least SPF 15 in your daily routine to be sun safe (it's anti-ageing too!), and when in the sunshine - whether in the garden or on a tropical beach - you need to wear as high an SPF as possible, preferably SPF 30 as a minimum.
Leading beauty brand La Roche-Posay recommends staying out of the sun between 11-3pm and covering up by wearing loose t-shirts and hats as much as possible. UV protective sunglasses are important to shield eyes from sun damage and always try to keep babies and young children out of direct sunlight. We all admit we love playing in the sunshine and a tan can make you look healthy - but skin cancer, sunburn and leathery skin are just not cool...
New science:
Through studies of skin exposure, scientists have discovered that there are many ways to boost skin protection on the outside by working from the inside. The brand new and clinically proven Colladeen Visage tablets guarantee an SPF 10 for your skin. Smear-proof, sweat-proof and offering protection from the top of your head to the soles of your feet, this tablet can help reduce long term ageing from the sun. Although it should never be used as a replacement to sun cream, it ensures minimum protection all year round and is an exciting development in skincare.
Dr Sam Christie says: "Plants protect themselves from sun damage with pigments such as lutein and anthocyanadins. When these are present in high quantities in our diet we see a complex effect on skin chemistry: a natural SPF is achieved as well as an ability to reverse pre-existing sun damage. The study shows that Colladeen Visage has proven, visible effects on the appearance of skin. This is thanks to the complex way it supports the delicate structures beneath the skin's surface, including the main structural protein collagen."
Other recent studies have shown that lycopene, found in tomatoes, shields from harmful UV ray damage by protecting against photoxidative stress on the skin, and when eaten in large quantities, lycopene and the other antioxidants found in tomatoes can increase protection against sunburn.
Thankfully, there's no need to get green-fingered and grow your own tomato plant. Lyc-o-mato, a new capsule that contains the amount of lycopene equivalent to a minimum of six large ripe tomatoes, can help to protect against UV damage when used in conjunction with sun cream. This non genetically-modified product naturally enhances the skin, and as well as helping to protect from UV rays, the capsules also contain vitamin E and beta-carotene to aid good health. So whether you're a sun worshipper or love to sit in the shade with a good book, Lyc-o-mato is an ingenious little product to incorporate into daily life.
Safe tanning:
What better way to enjoy a tan than by faking it? Instead of baking in the sunshine and increasing your chances of skin cancer and a nasty case of sunburn, simply pick up a bottle of fake tan and enjoy a perfect and even colour, the natural way.
Fake tanning brand Fake Bake have launched the 'Save Your Skin' campaign in conjunction with May 2012's Melanoma Month, aiming to highlight all safe tanning products and how to look after your skin while still enjoying all the fun of the sun. They're also highlighting the dangers of sunbeds once again, after successfully leading the campaign to ban under-18s from using tanning beds in 2010. London Fashion Week banned their models from using sunbeds this year and the tanning brand is working hard to bring down the large numbers of malignant melanoma diagnoses which have quadrupled in the past thirty years - we take our hats off to them (but not while in the sun).
With gradual fake tans that are built up by daily usage over a period of time, professional spray tans or instant wash-off versions, there really is a product out there for everybody. Whether you need a quick fix or fancy a little colour-boost for a big night out, fake tan is the only way to go…