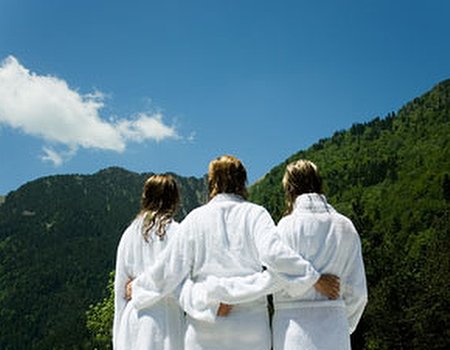 Ready for a trip that involves a lot more than sun, sea and sand and will benefit your health at the same time? Head off to pastures new and escape the hustle and bustle of city life for a healthy holiday with a difference.
Whether you fancy a break to soothe tired muscles and refresh overworked minds or want to come back off your jollies with a spring in your step, try these nearby foreign treats for a luxury escape that uses the very best of Mother Nature to get you feeling good...
Iceland's hot springs
Situated above the UK in the North Atlantic Ocean and directly on the Mid-Atlantic ridge, this volcano-rich country is naturally geologically active. With a mild temperature despite being situated not too far from the Arctic Circle, Iceland's active grounds give off particular eruptions through geysers and volcanoes.
The constant geological activity provides heat for large expanses of water, mixing the earth's inner substances with warm natural waters to provide a relaxing and mineral-rich bathing experience. With some of the water originating from over 2,000 metres deep and naturally heated to a toasty 39 degrees, this is one place to head for an upgrade on a relaxing hot bath at the end of the day.
Israel's Dead Sea mud
Scientifically unable to breed new life, the water and mud in the Dead Sea contains more than 35 minerals and is so dense that visitors can float effortlessly in the water - no swimming lessons required. Helping to alleviate symptoms of skin problems such as psoriasis and rheumatic diseases like arthritis, the water's high levels of salt (approximately 8 times saltier than the rest of the world's oceans) and minerals leaves the mud on the banks a highly concentrated powerful paste for skin.
Smeared onto the body and left to dry in the sun, the mud's high mineral content is absorbed by the body to give a little relief from a wide range of medical problems. With high oxygen levels and low allergen levels, this Dead Sea adventure is almost out of this world and is a must for anyone, with or without skin problems...
Austria's mountain springs
With every mountain, hill or town, you can be sure of a relaxing natural spa situated close by in Austria. The European capital of wellbeing, this is the ideal country for mixing mountain beauty with outdoor spas for stunning panoramic scenery, all from the comfort of a warm thermal pool. Whether you're an avid skier or just love looking out onto a beautiful setting, Austrian mountain springs are the ideal trip for total body and mind wellbeing.
With thousands of litres of natural spring water flowing down the mountainous terrain of Austria each day, harness the mountain springs and bathe in the mineral-rich water, all while breathing in the cleanest of air at around 1,000 metres above sea level.
Poland's salt caves
Though not restricted to Poland and now available widely in Eastern Europe, The Himalayas and even parts of Ireland and England, naturally occurring salt caves were originally mined for food purposes. Seen as a sign of wealth to have salt on the table since Roman times, it was the beady eye of a Polish health official who noted in the mid 1800s that the workers of the salt mines never became ill with any lung-related diseases.
Since then, salt caves have been carved out for patients with respiratory diseases to inhale the negative ions of the salt-rich air, clearing out lungs and helping to release blockages in the nasal passages. All you have to do breathe...
France's thermal water
Supposedly first found in the early 1700s when the former owner's horse was left to roam the mountains after developing a strange and severe skin disease, Avène discovered the water's natural powers when the horse returned after drinking from a spring and was cured of its skin disease. Building the first thermal spring facility in the French town for helping problem skin sufferers, Avène soon became a global hit after its water was used to treat patients suffering from the great fire of Chicago in the late 1800s.
Nowadays, the Avène brand is a hit for sensitive skin sufferers with its silica-rich formulation that is naturally soothing, and anti-irritating. With a hydrotherapy centre situated close to the original site that accommodates up to 4,000 patients at a time, we love the Avène range for bringing the spa's power to the comfort of our own homes. With thermal water sprays to rehydrate the body, moisturiser and even a sun care range, Avène's ability to soothe all types of skin woes has made this is a must-have in Wahanda's bathroom cabinets...