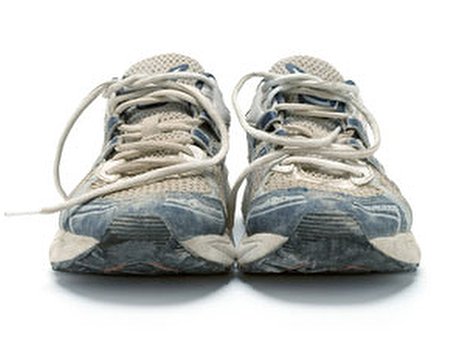 It's the London marathon this Sunday 22nd April and if watching all those lycra-clad runners inspires you to get fit for summer and take up running, check out our top ten tips to get you running faster than the Energiser bunny...
Beginner's luck:
If you've never run before then try and start slow. There's no fun in taking off and having to stop ten seconds later with a stitch. Try a few long walks to get your leg muscles accustomed to working hard, and if you're feeling brave incorporate a gentle jog at intervals as you go. This will build up stamina and also get you used to working different breathing patterns too.
You're pulling my leg:
If you suffer from any leg or feet problems, such as shin splits or knee issues, it may be best to see your local GP or a professional before attempting a run. Running on hard surfaces places great pressure onto your lower limbs and this can cause existing problems to crop up and cause you significant pain.
Try walking for long distances and gradually adding in short bursts of jogging (even if it's just to run up the stairs at home) to build up muscles, stretch for as long as you can and make sure you're wearing the correct footwear.
The shoes have it:
Before you even think about stepping out of your door for a refreshing run, you need to treat yourself to some snazzy running shoes.
Head to your local sports store and have a quick chat with one of the assistants and, if you're a novice, explain to them you want to begin running. They can help advise which shoes will be better for you, whether it's a good pair of trainers or even the 'barefoot' craze. Once you've splashed the cash on some stylish footwear make sure you keep them solely for running - wearing them to walk to the corner shop will affect how they support your feet.
You've got a friend in me:
One good way to start running is to find a friend to join you. Not only will the company of a friend make you feel less nervous, but the companionship will also help to distract your mind from concentrating too hard on the exercise itself. You can encourage each other to go for a run instead of continually saying 'I'll go tomorrow', and for safety issues you're in good hands. If you have any falls or trips you have someone to help you home, and two people are better than one if straying into low-lit or unknown areas.
Top up the fuel supply:
Keep yourself stocked up with food now that you're about to start running. If you're restricting your diet to anything under 1,500 calories per day, you may do yourself some damage because as you run you will burn off those energy supplies.
Try not to eat a large meal before you run however, as blood supply will be directed to digesting your food instead of feeding your muscles. Aim to eat a few hours before running, and foods like wholegrain pasta are perfect as they slow-release carbohydrates.
Feeling inspired? If you need some extra tips on how to get started, ask our experts in the community for their advice on how to get the most out of those brand new running shoes.