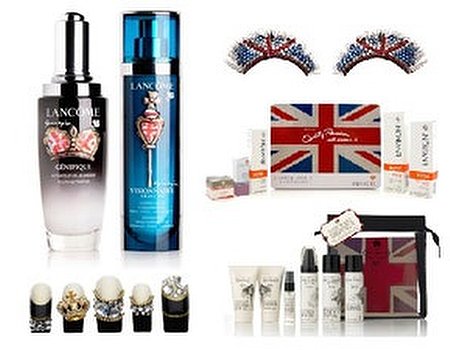 Are you preparing for a right royal knees-up to celebrate the Diamond Jubilee? The festivities this weekend will be four days of champagne, cream teas and celebrations in honour of Queen Elizabeth II's 60-year reign. Whether you'll be in London to watch the action or at home in the garden, we've picked out some gorgeous Jubilee-inspired products to Brit-ify your bathroom cabinets and make you feel like a princess.
Face
Splash out on these Lancôme beauty buys that are truly fit for a Queen. Lancôme's Visionnaire Advanced Skin Corrector serum and Genefique Youth Activating Concentrate will be sold in limited edition bottles exclusive to Selfridges, which will be hand-painted by new top designer Georgia Hardinge. With their stunning blue and black bottles, Georgia will hand paint a Union Jack sceptre or crown onto the front to create an individual and iconic memento. What's more, these bottles will be packaged in limited edition boxes featuring Union Jack dresses and cheeky corgis. Snap them up now for a decadent treat...
Hair
If you've longed for Kate Middleton's perfect coiffeur, from the loose tumbling curls to her perfect wedding half up-do, Percy and Reed's limited edition Hair Royal Highness kit has everything a royal princess could ever need. With moisturising shampoo and conditioner to make locks dazzle, and an oil, mousse, dry conditioner and hairspray to keep your tresses in check whatever comes your way, you'll be reigning supreme int he style stakes. Now, where are all those princes hiding...
Body
Leading skincare brand Environ have launched their oh-so-spiffing box of Jubilee goodies. The vintage Union Jack emblazoned tin contains three full size Environ products for an extra special everyday skincare routine of cleansing, toning and rich moisturising, plus two treats of clarifying cream and hydrating oil capsules to keep your skin looking worthy of a crown. With a range that offers customers a tailor-made level of vitamin A in the moisturiser, there's never been a better time to treat yourself.
Make up
For a stunning look to stop people in their tracks, try these fabulous diamante Union Jack eyelashes to get you all aflutter. Exclusive to Selfridges stores, these Shu Uemera lashes are a great way to update an outfit with a nod to our island's flag and our heritage. The Japanese makeup artist and beauty pioneer is already loved by many in the British Isles - and with both the Jubilee and the Olympics this year, 2012 is the perfect summer to wear these crazy red, white and blue patterned falsies and get ready for all eyes to be focusing on yours.
Nails
If you can't wear a crown on your head, why not adorn your fingernails with them? Nazila Love Glamour is one of the leaders in super glitzy nails for a striking look. These bejewelled falsies are perfect for the Jubilee weekend with sparkly gold crowns, twinkling diamonds and a rich gold trim for a regal finish. Quicker than a swipe of nail varnish, simply peel the backing and place onto clean nails. Voila! Your nails will be turning heads for all the right reasons.