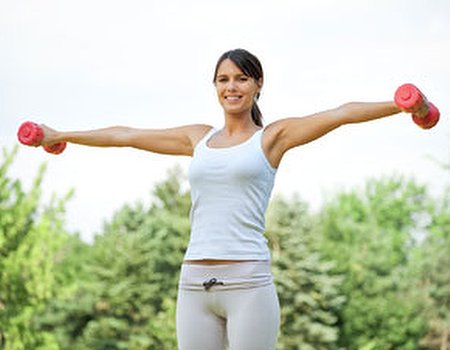 Easier said than toned, right? Toning up for the summer season can be a painstaking task that requires determination by the bucketload. Luckily enough, we're betting you've got it - you just need to know how to use it.
With lots of advice out there on how to get light and lean, who knows what's right and what's wrong? We've pumped and lunged our way through the tips and tricks to find the best ways to tone up those pesky areas, splitting our guide into the usual suspects so you know how to target the wobbly bits as part of your exercise regime - remember: no pain, no gain…
Legs
Forget diamonds - squats are a girl's best friend. The best way to tone up legs is with a simple repetition of squats each day, to attack different muscles and make full use of both your outer and inner thighs. After all, if you're going to tone up those pins, you've got to tackle all areas to ensure you end up with legs good enough to rival Beyonce.
To make sure you're using all areas of the legs, you'll need to incorporate three different squats into your routine. Firstly, grab some weights to use for your arms – whether you prefer dumbbells or two bottles of water, it's completely up to you. Stand with feet together and slowly lower yourself as close to the floor as possible as if you were trying to sit down. Use the weights for balance and repeat ten times - the slower the better.
Next, place your legs approximately shoulder width apart and prepare to dip down low. Keeping your back straight, bend your knees and squat - try and dip down as low as you can, and hold for a few seconds to feel the burn. Release, lift up slowly and then dip down again. Repeat ten times for optimum results, and don't flinch when you feel a slight burning sensation in the muscles. You can mix it up by 'pulsing' - short, fast movements - in between your slower, more intense moves.
Finally, work on each leg by lunging with one foot forward in front and one behind. Slowly lower yourself down as far as you can, hold for a few seconds until you feel the backs of your legs burn, and slowly raise up. Repeat ten times on each leg each day - you'll have perfect pins in no time.
Bum
Don't hit a bum note. Our bottoms are top of the list when it comes to toning up, especially when preparing to bare all on the beach. Brazilian ladies are famous for their gorgeous derrieres and we're taking the tips from our South American counterparts to attack our gluteus maximus muscles to the max. Leandro Carvalho's Brazilian Butt Lift classes incorporate this five minute workout, so we're mixing it into our breakfast routine in the hope of a beautiful bum a la Jennifer Lopez.
Firstly, stand with feet spread slightly wider than shoulder-width and turn feet outwards. Place arms at your sides, stand straight and give those bum muscles a good tight squeeze. While contracting the glutes, slowly lower yourself down as far as you can, and don't let go of the squeeze. If you can, spread arms in front of you to balance you out and slowly pulse your hips up and down whilst squeezing to raise pressure and increase the burn.
If stretching's more your thing and you prefer yoga over running, another great way to attack buttock muscles is to stretch them into perfection. Start off by laying on your back on the floor on a comfortable surface. Keep one leg outstretched along the floor while bringing the other up towards your chest, and squeeze! Gently bring the knee as close to your face as you can to stretch your glutes and give yourself a mini back stretch too. Repeat ten times for each leg and your rear will be raring to go…
Tum
Get a washboard stomach. A stubborn area to trim down, the stomach is most people's fat holding area, so ditch the sweets and pizza and wave a big hello to the first step to a fine tummy. To banish the spare tyre or 'muffin top', there are a few exercises that might just help - finish these off nicely with a cheeky cheat treat as recommended by Kate Shapland and those inches could soon be dropping off…
Sit ups or 'crunches' are great for using stomach muscles and can be done at home - no gym required. Lay on a comfortable surface with your knees bent and hands behind your head. Tense your stomach muscles and lift as much of your upper body as possible, hold, and relax back down. Repeat as many times as you can - set a goal that you can increase every time and that six pack won't seem so far off…
If you're sick of crunches, another way to work that stomach (and the rest of your core) is with a plank. No, not laying flat on a surface - you have to work for this one. Start on your elbow and knees on the floor, and lock your hands together for extra stability. Then straighten your legs and raise the rest of your body so you're up on the balls of your feet hip-width apart, back straight and tummy in. Hold for a minute at a time - trust us, you'll want to start small with this one...
Arms
Ah bingo wings - the cause of many women's t-shirt wearing woes. Well, dig out those sleeveless dresses and tops folks because we'll soon be waving our hands in the air like we don't care thanks to these top toning tips…
Tracy Anderson, who has trained the likes of Madonna and Gwyneth Paltrow, advises two top moves for enviably toned arms. Firstly start off by grabbing your dumbbells, or improvise with tins of food, bags of sugar or any two equally weighted objects you can find and stand with feet slightly apart and arms stretched out to your sides. Slowly make small circles, going both forward and backwards while keeping shoulders down. Begin with ten rotations forward and switch for ten rotations back to really attack those wobbles.
For an extra push to tone your triceps, start with your arms straight by your side, holding the weights and bending the knees slightly. Push your arms backwards whilst keeping them as straight as possible with the palms facing back, then bring back to your sides. Try at least 20 times to feel the burn and beat the bulge.
Whole body
It's great to target key areas of the body when it comes to toning, but if you need to shape up all over then you need to workout the whole body. Sorry about that. The good news, though, is that it's far easier to do than picking out certain areas to lose weight - and you'll see the pounds drop off as you go.
For a full body workout that's so fun you might not even notice that you're supposed to be exercising, try a dance class. Suitable for both men and women, dance classes are a great way to shake any problem areas away, make new friends and learn some moves. From Zumba to Bokwa and maybe even a bit of body popping with street dance, there are lots of options available to you in every area of the UK now that dance fever has hit the nation. Or for a cheap and cheerful way to work every muscle in the body, go for a run in the great outdoors - the fresh air will do you good and you can enjoy the scenery as you pound the pavements.
Feeling inspired? Why not check out our fitness deals to see what's on offer near you - a class or personal trainer could be just the encouragement you need to get the beach body you're after...