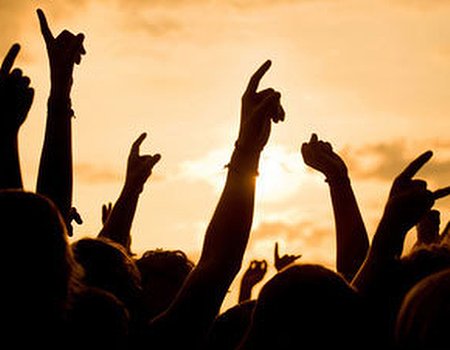 Festival fever is here and the countdown to summer's hottest music acts has begun. Whether you're heading to a field with your wellies slung over your shoulder, a bag packed with neon rave paint or even a suitcase to fly away to sunnier skies, there are a few products you're guaranteed to need. Aside from the essential roll of toilet paper and a toothbrush, don't leave home with that niggling forgotten-something feeling in the back of your mind – start packing with our guide to all the festival basics. Now, which way is it to the main stage...?
Baby wipes
A festival must-have, a trusty pouch of baby wipes is every festival-goers go-to product. Not just for babies' bottoms, the wipes are a necessity for when showers aren't available. A quick swipe is all you need to clean grime away from the body, take off makeup and wash away any of last night's neon paint – leaving you ready to party all day long again tomorrow. Huggies Soft Skin wipes are the ideal solution for festival go-ers as the alcohol-free wipes don't strip the skin of any moisture and won't irritate sensitive or dry skins, while shea butter moisturises and gives a sweet smell too. Working out at only a couple of pence per wipe, this is the best way to clean up skin in seconds.
Dry shampoo
When oily hair strikes, combat it with a quick spritz of dry shampoo for a show-stopping bed head look that will keep you going all festival long. With a lack of watering holes and no time to waste on giving it a wash, dry shampoo takes only a few seconds to bring hair back to life. Drying up excess oil, boosting hair volume and making your locks appear luscious, the Batiste range of dry shampoos keeps our hair happy for days on end. Whether you fancy a bit of gold shimmer or the whiff of fresh cherries, there's a hair saviour in a can for everyone. Our favourites at Wahanda are the coloured varieties that spray a tinted formula so brunettes have no tell-tale white patches, and the XXL volume which dramatically turns our hair from limp to extra large.
A face pick-me-up
With a lack of sleep in the tent and dancing all day and night long, skin can look slightly tired and weary very quickly. Instead of packing your everyday moisturiser, exhausted skins may need a bit of extra help for a worthy festival fix. MAC's Strobe cream is the perfect tube to pop in your makeup bag for pepping up skin in a flash and keeping it camera-safe all day long. Packed with antioxidants and all the benefits of green tea, this vitamin infused light-reflecting cream will bring dull faces back into the spotlight in seconds. No-one will be able to tell you had a sleepless night with this wonder fix...
Day long sun cream
Whether you're waving your hands up in the air in the scorching sunshine or a torrential downpour, UVA and UVB rays can still penetrate the skin and cause some serious damage. Not only can a heavy dose of sunburn leave you feeling sore, hot and unwell, but those rays from our beloved sun can cause skin cancer and break down the elasticity of our precious skin too. When music's on your mind, a one-day spray sun cream is the ideal compromise between time, effort and safety. One quick spray all over the body and face can keep you protected for up to 6 hours, and leave you with a yummy smell to boot. The Piz Buin One Day spray is a favourite for its light texture, summery aroma and ease of use - so get spraying your way to complete sun safety.
Spray water
When you're a long way from a nice hot shower at the end of a day of dancing, one way to fake a cleansed feeling on your skin is by packing a can of refreshing spray water. Avene's Thermal Water Spray is pH neutral and packaged in a sterilised environment to leave the water bacterially pure, as well as being packed with silica and minerals to soothe skin – the thermal water can tackle sunburn, skin irritations, dry patches and itchy insect bites while refreshing skin's natural moisture levels. Perfect to cool down after a day of sunshine, swap moisturisers for this spray to bring you back down to skin-soothed comfort.
If you need a little extra inspiration for what to pack for your festival trip, head over to our ultimate festival beauty board on Pinterest for extra beauty essentials and makeup must-haves...