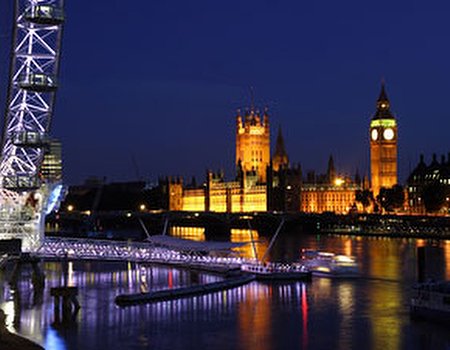 Yesterday we were wishing a very happy St George's Day to you lovely lot. From our infamous 'cuppa' to the changeable weather, England is a country well worth celebrating. We thought to commemorate the day we would praise all the good health and beauty tricks that have come from England's celebrity world - from eyelashes to exercise, we're a nation of some seriously stylish celebs.
Kate Middleton's hair
Known around the world for her glossy mane, Kate Middleton's bouncing barnet has become a fashion statement in its own right. The Duchess of Cambridge will celebrate her first wedding anniversary with her adoring Prince this weekend, and what better way to rejoice on this happy occasion than by crowning her as having England's best hair?
Kate's 'do is iconic - not only is it incredibly shiny and healthy, but her classic style mix of straight and curly is easy to recreate. Simply add thickening mousse to damp hair and roll sections close to your head using large rollers. Leave to cool and unravel to reveal bouncy curls. For an extra way to dazzle, spritz shine spray over your new style. If it's good enough for our future Queen...
We love Boot's Large Sleep-in Rollers (£4.99). They don't have a hard casing like the traditional kind, but a soft inside meaning you can comfortably wear them to bed and wake up with a head full of soft and natural curls.
TOWIE's tans
Sales of fake tan have rocketed since those loveable Essex ladies vajazzled their way onto our TV screens, and we are now a nation devoted to looking browner from the bottle. With a tanning industry now worth £22.5 million, the TOWIE effect has taken over.
The golden rule of fake tanning is to exfoliate and moisturise the day before, and always wear gloves to protect your hands – no one wants those telltale streaks. Don't rush as this can leave big areas untouched, and try to go upwards from feet to face to avoid any nasty smears from bending over. Once you've covered every inch, simply relax and wait for the gorgeous colour to take over. Being fake tanned is often associated with looking healthier, slimmer and makes teeth look whiter too so grab a bottle and enjoy the sunkissed look the safe way…
Alexa Chung's nails
At London Fashion Week this year, fashion-forward Alexa Chung was papped with some rather interesting nail designs. Her manicure, consisting of ten versions of the 'evil eye', had everyone clamouring to copy the look. From miniature logos to sassy stripes, nail art instantly makes hands look pretty and fun.
Decorating your talons is getting more and more popular, with trends including colour clashing, pastel tones and neon brights. Take a look at our Pinterest boards for our favourite nail art looks, including beach scenes and amazing social media style nails.
Adele's eyelashes
Our favourite Grammy-winning London girl is one of England's biggest fans of false eyelashes. Her glamorous and retro style of bright red lippie and a cat's eye flick of eyeliner is beautiful, flattering and has transformed her from a typical teenager into a global superstar. While Adele likes a dark thick lash line, possibly using two sets of false eyelashes for a layered and dramatic look, we here at Wahanda HQ love the pretty designs of Paperself lashes, which are perfect for the upcoming festival season.
To enjoy a slice of St George and show some love for our fair land, Paperself lashes have one particular style conveniently named 'London Lashes', which we simply can't resist. The set is decorated with tiny designs of the capital's most recognisable landmarks including the London Eye, Big Ben and Tower Bridge. How better to celebrate everything English than to wear the capital's skyline on your eyes?
Pippa Middleton's Pilates
The Middletons have become instant trendsetters since the Royal Wedding last year. While only a few people knew of Kate's little sister Pippa before the wedding, the moment she stepped out of the bridal car in ''that'' dress meant that her shapely figure was the talk of the nation.
Pippa has been open about her love for core-strengthening Pilates and enjoyed regular sessions with trainer Margot Campbell before her sister's big day. For a bottom like Pippa's, try a Pilates class to aid flexibility and work your abdominals, pelvis, back, shoulders and buttocks. We've got a great range of deals on classes, so grab your gym bag and prepare for a limelight-stealing derriere...
What didn't make it...
Of course, there will always be those trends that never quite catch on. Jessie J rocked her tattoo lips when she performed on last year's Britain's Got Talent with the Union Jack emblazoned across her chops, but have you tried wearing these crazy designs out? Although they're fabulous and a great idea for luscious lips on stage, the people we pass on the street don't seem too impressed.
For the boys, David Beckham might have tried men's nail varnish but could you imagine your man painting his nails? Evolution Man has released six colours of varnish especially for men, including a metallic purple and a matte black. What do you think? We're not sure we'll be manicuring our men anytime soon…