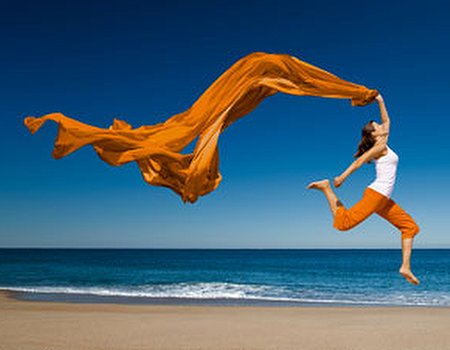 Let's dance. Sunday marked this year's International Dance Day, which, now in its 30th year, celebrates the art of dance and its ability to cross all political, cultural and ethnic barriers to bring people together.
International Dance Day is enjoyed across the world every year on April 29th. In recent years, dance has become an increasingly popular way to work out and get fit thanks to dance groups like Diversity showing how it's done and popular shows like Strictly. Often so fun that you forget you're doing some hard cardio work with that body of yours, it's a great way to slim down, tone up and feel better. Why not give it a go and become the Lord of the dance...
Zumba
Shake it up. The fun dance-exercise of Zumba took the nation, and the world, by storm in the past couple of years thanks to its enjoyable way of shedding the pounds. This upbeat dance class is so energetic and entertaining that you simply won't notice that an hour of high-intensity workout has passed. Bringing together slow moves with high-energy dances, this craze is superb for working out and shaping up. The music is a mixture of salsa, cha-cha, reggae and more, and it's a sure-fire hit for any age - there's even chair Zumba for those who struggle moving around.
Street Dance
Pop, lock and drop it like Michael Jackson. Street dance is a combination of break dance, hip-hop and body-popping that varies from tutor to tutor. Don't worry, you won't be spinning around on your head like they do in the films, but you will learning some hip new dance routines that will make you move more like J-Lo than 'oh-no'. Originating from street battles, this form of dance is fun and slightly cheeky with its history of beating the opponent with superior dance moves. Classes are fun and set away from the mean streets, and will focus on building up your rhythm and style while learning short dance moves.
Modern Dance
If you fancy something slightly slower, modern dance is a perfect way to enjoy the spirit of dance but focus more on stretching and enjoy a slightly more relaxed pace. Originally devised as a way of rebelling against the tight structures of classical ballet, modern dance incorporates other influences such as Latin dance. With emphasis placed on using your body weight to devise your own personal style that suits you and your body, modern dance is a form of expression. While it can improve your fitness levels and flexibility, it can also enhance your body posture and give those muscles a good old stretch.
We've got some great offers here at Wahanda for a variety of dance classes across the country. Grab that gym bag and celebrate International Dance Day with a bit of a boogie...