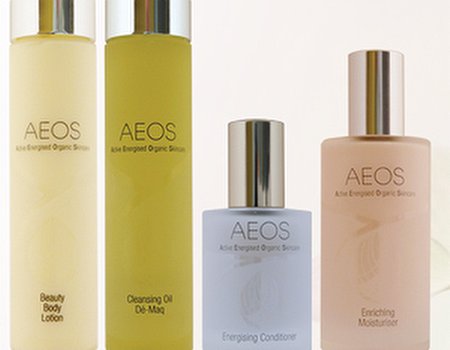 The Wahanda girls are always excited to discover new products, particularly if their ingredients are nice and natural. We also happen to be partial to pretty things, so when we clapped eyes on AEOS' colourful skincare products, it was a no-brainer - we knew they were going to have to come home with us...
AEOS (or Active Energised Organic Skincare) combines the benefits of organically farmed ingredients with the special properties of energising minerals to help renew, rebalance and replenish. Drawing inspiration from ancient alchemical processes, the brand uses crystal essences such as fire opal, rose quartz and amethyst to combat stress and awaken the senses. It's really no wonder we're smitten...
Not too sure about precious gems? The background behind AEOS products doesn't just read like an inventory of Aladdin's Cave – the brand also focuses on a holistic farming approach, steering clear of harmful chemicals. An ethical, organic range that's also kind on the skin? That's exactly what we like to hear...
With products including cleansers, exfoliators, moisturisers and lotions, the AEOS range offers everything you need to look after your face and body. Packed full with nourishing plant extracts and soothing essential oils, these tempting treats are just the thing for pampering both body and soul this winter.
Naturally, we just had to give these unusual products a go – and we were pretty pleased with the results. Not only did these lotions and potions look fantastic in our bathrooms, but they also worked wonders on our skin – even for those who are sensitive types. We also loved the strong but sensual smells, which turned our daily skincare routines from a chore into a treat. We think this could be the start of something beautiful...
Want to develop your own AEOS skincare ritual at home? Read more at www.aeos.net, and don't forget to let us know what you think on Twitter – we always love to hear from you.