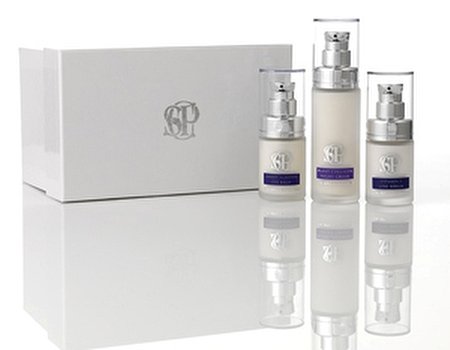 Panic stations – it's the 9th December already (how did that happen?) and we've still got Christmas shopping lists as long as our arms. Luckily, we've got some premium product MobDeals that are set to change all that – meaning that we can breathe a sigh of relief. We don't know about you, but we think that's definitely worth celebrating...
This year, our lucky loved ones will be unwrapping luxury gift sets from brilliant brand SPC Skincare. Standing for 'Synergy of nature and science', 'Potency of ingredients' and 'Commitment to excellence', SPC has a refreshing philosophy which can be seen in their stylish skincare sets. Not only are the products prettily packaged – but they also contain plant essential oils and natural extracts, helping to deliver spa-standard results at home.
Like the sound of getting your Christmas shopping done without any fuss? Have a look at these two terrific offers and forget about hitting the high street...
SPC Skincare 3 Piece Face Gift Set
This super set contains everything you need to hydrate, plump and smooth your skin this festive season. Arm yourself with a luxurious Plant Collagen Night Cream, velvety Sweet Almond Eye Balm and Vitamin E line serum and those pesky lines will be as thing of the past. The best part? We're offering an amazing 62% off, meaning that all these goodies could be yours for just £45.
If you know a beauty fanatic who would love to find this set under the tree, just head over to our MobDeal page on Monday. Alternatively, why not bookmark this link and leave it open on your screen? There's nothing like a huge hint...
SPC Skincare 2 Piece Gift Set with Overnight Make Up Bag
Always heading off on spa breaks and weekends away? This gift set is the perfect way to keep your skin looking smooth on the move. Containing Sweet Almond Eye Balm and a Vitamin E Line Serum, the pretty pink make up bag is a stylish and practical way to store your essentials. Santa, we've been awfully good this year, honest...
To get your hands on this exciting offer, keep an eye on our National MobDeal page – it'll be hitting your screens soon!
For more gorgeous gift ideas, head on over to the Christmas page. There are plenty of deals and offers to choose from, and you won't even have to leave the house – great news if you'd rather stay wrapped up warm by the fire.