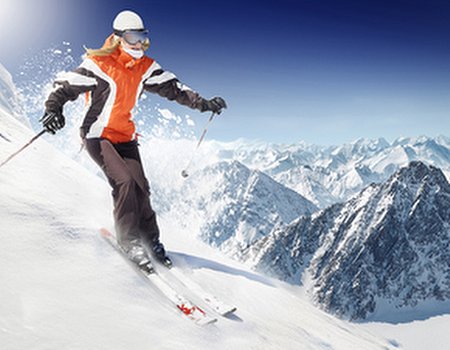 As winter draws closer and some of us get ready for festive breaks Mr Paul Banwell, head of the Melanoma and Skin Cancer Unit at the Queen Victoria Hospital, offers advice on how to keep safe and enjoy the winter sun.
If you're planning on hitting the slopes this winter, it's crucial that you don't forget the effect that winter sun can have on the skin. When you are high up a mountain, the UV levels are increased and you are physically closer to the sun, resulting in intense exposure to sun radiation.
It's just as important to remember to pack your sun protection for a winter ski or snowboarding holiday as it is for a beach holiday. When it comes to choosing an SPF for the slopes, the trick is to find a sunscreen that slips elegantly under moisturiser, doesn't 'sweat off' too easily and one that becomes a seamless part of your morning routine.
Which sunscreen for the slopes?
There are some great new products that I would recommend that offer good protection, yet feel great on the skin and are easy to use.
For the ladies:
Heliocare Advanced SPF50 Gelcream Colour (£28) offers advanced protection and is the only UV protection to contain Fernblock Photoimmunoprotection Technology. It's light and easy to apply and also has a skin-tone enhancer that gives a heathy bronzed look and helps mask uneven areas of skin tone and blemishes. For mail order call 0845 2600 261.
For the gents:
Another one I'd recommend is SkinCeuticals Physical Fusion UV Defense SPF (£28) with titanium dioxide as it offers excellent protection with novel technology that makes it cosmetically elegant. This weightless silky sheer fluid includes colour-infused technology that gives a universal tint for all skin colours and boosts the skin's radiance. As a fast drying formula, it leaves no residue, making it appealing for everyday use.
For one hit wonder boys and girls:
In terms of sun protection products available on the high street, I would recommend Piz Buin 1 Day Long Lotion (£19.99) as it provides six hours of long lasting SPF 30 protection in one single application. Its non-greasy formula is quickly absorbed and is sweat and water resistant, making this a good choice for those who are not as diligent about reapplying sunscreen regularly.
Get your winter dose of vitamin D
Around 50% of the adult population in the UK have sub-optimal levels of vitamin D and about 15% have 'severe' deficiency during the winter. Exposure to the sun is essential for production of vitamin D by the skin. Aim to have 20 to 30 minutes of exposure to the sun two-three times a week. It has also been shown that oral vitamin D might be beneficial to guard against melanomna, a potentially lethal form of skin cancer. Try Heliocare Ultra D Oral Capsules (£29.50). For stockist information call 0800 0195 322
And don't forget your lips
Make sure you use sun protection on your lips as exposure to the sun, plus the wind and dry air, can result in sore chapped lips. Lips are more sensitive and will be first to feel the impact of the elements. Try Jack Black Intense Therapy Lip Balm SPF25 with mint (£7.25)
The sun safety slopes rules
1. Use an SPF that's at least 30, ideally 50
2. …and that is sweat-proof
3. Reapply every two hours
4. Use SPF even if it's cloudy
5. Wear good quality eye protection
6. Carry travel sized SPF on the slopes