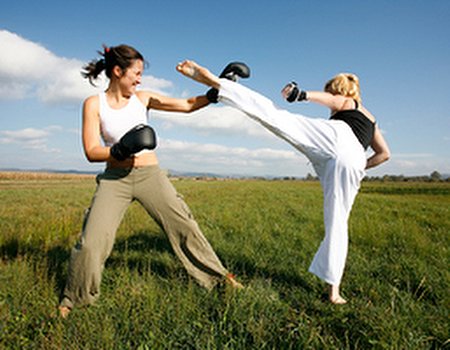 Have you heard of yoxing and piloxing? How about koga or pologa? No, they aren't the names of the latest celebrity adoptees, but four of the growing number of combo treatments that take the best bits from several exercises and smash them together.
Hybrid classes are designed to provide an intense but effective full body work out, as the incorporated exercises often target different areas. Stretching and strengthening routines are often paired with aerobic exercise and many high impact activities work well off the safety of dry land in a muscle testing aquatic form.
Due to the rigorous nature of the majority of combo exercise classes, they are not for the faint hearted. If you feel like taking on the challenge of a bumper body blitz, then deal your inner sloth a double blow with one of the following:
Feel The Boxing Vibe
More than just a verbal encouragement to slip on those gloves, Feel The Boxing Vibe is a 45 minute fat burning frenzy that brings together boxing, kick boxing and the infamous Power Plate® machine. Group classes take place solely on the vibrating plate platform and aim to tone and tighten whilst providing a hardcore cardio work out. To float like a butterfly and... er, shake and buzz like a bee, check in at The Power Studio, Canary Wharf.
Aqua Yoga
Aerobics has been adapted, water dancing has been around a while in the form of synchronised swimming and now it's time to move your yoga class to the pool. Aqua yoga takes the familiar poses and movements of yoga and applies them to a distinctly wetter environment. The buoyancy of the H₂O apparently has the effect of reducing the gravitational pull on the body, allowing it to stretch further and with less stress felt on the connective tissues.
Gentle aqua yoga classes are ideal for pregnant women, people recovering from surgery or those nursing an injury and can provide a useful resistance work out for anyone who wants to limber up. At the moment, established classes are mostly confined to the USA, but keep a look out for venues popping up on Wahanda in the near future.
Pologa
The more adventurous among you might want to be the first to try out pologa. If you're trying to work out what's involved (other than yoga) from the name alone, here's a clue: it's not pole-vaulting.
Another US invention, pologa is said to help add definition to bums, tums, calves and abdominal muscles, whilst building strength, endurance and increasing flexibility. Ballet, rhythmic athleticism and yoga stretches are combined to create a slightly saucy yet fun work out that will keep even the most confident of yoga experts on their toes! When this import reaches our shores, we'll be sure to let you know.
Piloxing
Piloxing (Pilates and boxing- you're getting the hang of this now, right?) is a combo workout that packs a punch. Comprising of power, speed and agility training as well as flexibility and body-sculpting work, its Swedish founder Viveca Jensen says her mission is to physically and mentally empower women through the sport.
Sessions are run like a fun and sexy aerobics class rather than a boot camp, but weighted gloves add an extra challenge to the balance and fitness developing work out. Piloxing can now be sampled in the capital at Gymbox in Holborn.
Aquacycling
Move over spinning, there's a new two-wheeled craze in town. Germany is slowly but surely introducing the world to aquacycling (riding a specially adapted bike underwater); a work out that improves circulation and heart performance as well as working the spinal support muscles, legs and stomach through increased movement resistance.
The bikes used have been specially developed with semi-enclosed foot pedals and weigh about 20 kg. They are made of electrolytically polished stainless steel so that they don't rust in the water and allow you to participate whilst sitting on the saddle or standing up.
If you're up for making a splash with your combo class, head to Cottons Health Spa, Cheshire to give aquacycling a (hydro) spin.
What do you think will be next- cheerlates? Equine yoga? Maybe a spot of aquajudo? Keep one eye on the Wahanda website; you never know...