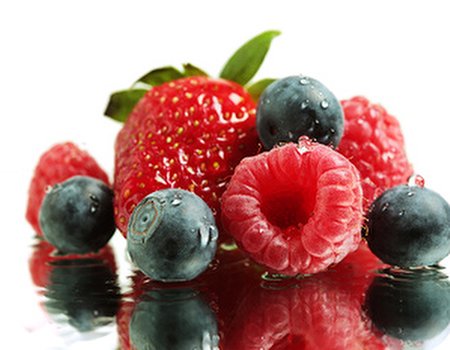 In recent years, nutritionists and doctors alike have been extolling the virtues of anti-oxidant and Vitamin C rich berries. They may be small, but it seems the health benefits of the fleshy fruits are enormous and their list of medical merits just keeps on growing.
Often dubbed a 'superfood' by diet devotees, blueberries have long been known to contain a diverse range of micronutrients. However, newly published research by the University of East Anglia (UEA) and Harvard University has suggested that specific bioactive compounds found in the fruit could actually help to combat high blood pressure.
The compounds, called anthocyanins, belong to a group of chemicals known as flavonoids. Other types of flavonoids, which are present in tea, red wine, fruit juice and dark chocolate, have already been shown to lower the risk of developing cardiovascular disease, but this is the first time the effects of anthocyanins have been examined on a large scale and definitively linked to reduced instances of hypertension.
As part of their research, scientists studied 134,000 women and 47,000 men, tracking the progress of their health over the course of 14 years. Subjects involved in the experiment were already taking part in Harvard's long term Nurses' Health Study and the Health Professionals Follow-up Study, but none of them had been diagnosed with high blood pressure when the investigation began.
To determine whether diet has an effect on the development of hypertension, the men and women were asked fill out health questionnaires every two years, whilst their eating habits were assessed every four years. Newly diagnosed cases of hypertension were then examined and compared to the recorded consumption of different flavonoids throughout the duration of the study.
By the end of the 14 year period, 35,000 patients had developed hypertension, but the scientists discovered that the participants who had consumed the highest amount of anthocyanins (found mainly in blueberries and strawberries in the diets of the US-based population examined) were eight per cent less likely to be diagnosed with high blood pressure than those consuming the lowest amounts.
Encouragingly, the results seemed to be even stronger in participants under 60 and blueberries were found to provide more effective absorption of anthocyanins than strawberries. In fact, those who ate at least one serving of blueberries per week were found to be 10 per cent less likely to become hypertensive than those who ate no blueberries at all.
"Our findings are exciting and suggest that an achievable dietary intake of anthocyanins may contribute to the prevention of hypertension," said the study's lead author, Professor Aedin Cassidy of the Department of Nutrition at UEA's Medical School. "Anthocyanins are readily incorporated into the diet as they are present in many commonly consumed foods. Blueberries were found to be the richest source in this particular study," he continued," but other rich sources of anthocyanins available in the UK include blackcurrants, blood oranges, aubergines and raspberries."
Hypertension is one of the most commonly diagnosed cardiovascular conditions globally; approximately 25 per cent of the world's entire adult population is affected, with around 10 million people in the UK and one in three US adults receiving treatment. A precursor of other fatal diseases, it often leads to stroke and heart disease and costs health services more than $300 billion each year globally. It is hoped that further research into different dietary sources of anthocyanins will help to define the optimal dose required to prevent hypertension as well as improving public health recommendations.
If you're already a fan of blueberries, is this report going to prompt you to scoff more? Or perhaps you turn your nose up at blue food and would prefer to wait for an anthocyanin pill. Let us know what you think by tweeting @Wahanda.