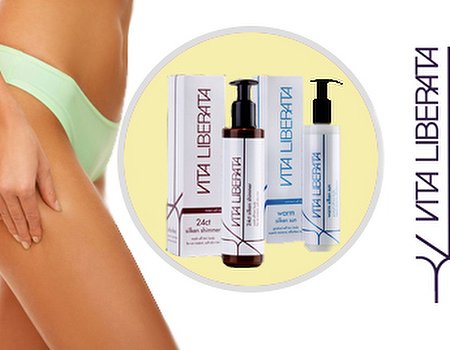 With skirts and shorts comes the need for sunkissed limbs - something that isn't always achievable beneath the grey skies of Blighty.
If you're feeling self-conscious about exposing pallid skin that's been hidden away all winter, fake tan can provide an answer. However, home tanning experiences usually involve avoiding a few potential pitfalls...
Stripey surprise - Streakiness should only apply to bacon, but all too often slightly heavy handed or rushed and uneven application results in multi-tonal shins and patchy elbows. You were aiming for Gisele, but when it all dried you got Mr Blobby.
The tell-tale palms - Your arms and legs are beautifully bronzed and you breathe a sigh of relief. That is, until you flip your hands over and find your palms are a less flattering shade of mahogany. And have dried that way.
Stained sheets - Tanning in the evening ensures that your tan has time to develop into a lovely golden glow overnight, right? Unfortunately, 9 times out of 10 it also means any excess cream or gel manages to make its way onto your sheets, leaving your bed looking like a modern recreation of the Turin Shroud.
Orangey glow - 'Natural looking' on the bottle doesn't always guarantee a subtle result on all skin tones. The label may have promised a Bajan sheen, but instead you look more tangerine
Have you been baking? - Application went without a hitch and nobody need ever know your tan is not the genuine article. You look good, you feel good and smell... like stale biscuits. Nope, thanks to that distinctive lingering fragrance, everyone will know your summertime look has come straight off the shelf.
Join the dots- You want to be fuzz as well as carefree, so manage to fit in a quick shave before slathering on your tanning lotion. After the colour has developed, you're certainly brown, but with hundreds of small dark dots where your hairs used to be. And there's no quick fix that'll shift them.
One way to avoid all these tanning catastrophes is to give Vita Liberata products a go. Vita Liberata have been the official sunless tanning providers for the XFactor for the last 2 years and having heard Wahanda community members rave about their salon and home tanning range, we decided to put two of their formulas on trial. Responsibility fell to me, the palest of the team, to test each product claim out.
They say: "Packed with natural extracts and water magnets to nourish and moisturise the skin on a daily basis. In 3 to 5 days skin will become sun-kissed and golden. All our tanning products are formulated to perfection with organic extracts and rich moisturisers to ensure a natural fade and prolonged skin conditioning. Simply apply as a regular body lotion. Warm will also work to extend the life of a natural or sunless tan."
We say: This product is a gradual sunless tanner (designed to be applied daily), which delivers a hint of colour in a moisturising body lotion. Non-greasy and easily absorbed, it has a fresh, almost melon-like smell on application; a welcome change from the countless products that smell a damp, empty biscuit tin.
After one application (with a tanning mitt, as recommended by Vita Liberata), there was very little change in my pale complexion, but over the course of three days, a natural looking golden tone began to emerge. Rather than looking like I had painted on a tint, the colour (as the product name suggests) added a welcome warmth to my skin without any odour or colour transfer.
Vita Liberata say that this is because the formula contains no perfume or alcohol and the DHA (a key ingredient which activates the tanning process) used is obtained from organic sugar cane. The gentle moisturising lotion is enhanced with silk proteins and pomegranate extracts rather than harsh chemicals, meaning this product is both light in texture and light in colour. Pale celebs seem to love it too, as Zoe Salmon and Erin O'Connor are said to be Warm Silken Sun fans.
Streaks - 10/10 None, even where application overlapped.
Palms - 8/10 I used a mitt to prevent any unwanted product transfer, but think there may be a slight absorption and colour build up over time if you tried to rub this in like any other moisturiser.
Sheets - 10/10 Still pristine!
Colour - 9/10 Light, buildable and not a hint of orange. It also fades nice and evenly, so you won't suffer with patchy coverage if you decide to skip a few days.
Dots - 8/10 Not evident after 3 days, but as this is a gradual tanner, any changes pore size should not result in glaringly obvious product accumulation. It will not cling to dry areas either thanks to its moisturising properties.
They say: "A sheer instant wash off self tan with chocolatey bronzing pearls, and natural silk extracts to leave skin silky, shimmery and soft. This fake tanning product dries in seconds, is perfectly flawless, and washes off in the shower. We love 24ct Silken Shimmer self tan on its own, or over a light tan to give warmth and a dewy glow to the skin. It's the easiest fake tan in the world to use, and it leaves the skin so silky soft."
We say: This product looks a little intimidating in the bottle, but is surprisingly easy to spread evenly over skin. The 'shimmer' come in the form of fine gold glitter, that blends very nicely into the chocolatey formula and leaves a hint of highlight that adds depth to your tan.
24ct Silken Shimmer also carries a gentle melon scent upon application, which fades as the product quickly dries. It is also packed full of moisture, but I felt that less really was more on my ivory toned skin. The colour is visible instantly and thankfully when used sparingly and in combination with a mitt, can be softly blended to create a more flattering and less intense tone for those of us who are not blessed with rich olive skin.
Vita Liberata say that 24ct Silken Shimmer also compliments Hispanic and African skin tones, creating a summery golden glow that seems to come from within. Alexandra Burke and X Factor mentor Sinitta have recently sung its praises and contestant Rebecca Ferguson is also said to be a devotee.
Another selling point is that this product washes off with nothing more than a gentle lather, making it perfect for special occasions (or for those of you who want to be able to remedy any mistakes in a flash). Despite being easily removed, I tested 24ct silken shimmer's longevity and found that the it lasted extremely well throughout the day with minimal fading and no transfer to clothing.
Streaks - 9/10 Possible, but you'd have to apply the product very unevenly and thickly. With instructions in every box to help you get the best out of your tan, you shouldn't have any problems.
Palms - 8/10 I used a mitt, which is the best option when using self tan. If this product does get on your hands, simply remember to wash them and all traces of the colour should disappear.
Sheets - 6/10 Not designed to be worn for days, this tan has the potential to transfer a bit on a particularly balmy night. Best to hop into the shower if it's particularly sweltering!
Colour - 7/10 Adaptable 'Brazilian glow'. You can easily do a patch test trial, but remember to apply sparingly if you are fair skinned.
Dots - 5/10 As this is an instant, intense colour formula, shaving before tanning is likely to give a slightly mottled effect on lighter skin tones. Simply shave the day before to prevent this faux pas
Overall, we were very impressed. Simple to apply and with great colour pay-off, it's not hard to see why this range has quickly gathered an A-List following. For such good quality products, the are amazingly affordable too, with prices ranging from just under £12 to £22.50.
Vita Liberata are also completely against animal testing and pride themselves on their products being organic and paraben free, making both 24ct Silken Shimmer and Warm Silken Sun both kind to your skin and ethically sound. I'll certainly be stocking up to make sure my tan lasts long after I return from sunnier climes!
Vita Liberata products are available in Boots as well as in spas (including The Chelsea Day Spa and The Beauty Laboratory) and salons up and down the country. They also do a spray tanning range, so if you'd prefer to have a professional give you a golden glow, why not check out our sunless tanning deals page to find an offer near you.