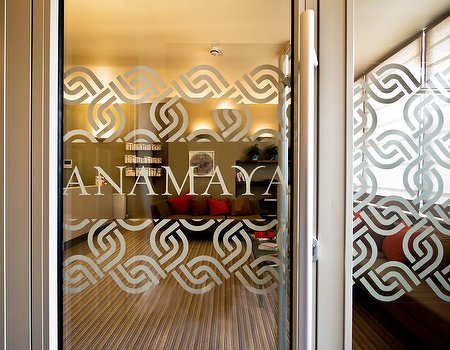 Like many desk-bound workers, maintaining good posture is not one of my strong points. Come 6pm – and after a good few hours fidgeting and trying to remind myself to sit up straight – I'm likely to be found slightly slouched with shoulders hunched over my keyboard.
After one too many complaints from colleagues and family about my creaking back, I decided to take action. A 'Perfect Posture Session' to assess and hopefully begin to correct my bad habits sounded like a step in the right direction (and I was promised there wouldn't be a hard-back book balancing test in sight)…
The venue
Located just off Kensington High Street (about a 5 minute walk from the underground station), Body Sync at Anamaya is tucked away in a quiet mews and flanked by a number of quaintly painted office conversions.
A smart, modern interior lies behind its panelled front door, with a clean and comfortable reception area greeting visitors as they step inside.
Upon arrival I was offered a drink, and after a short wait, I was met by my physiotherapist Claire, who led me upstairs to a small treatment room where my posture assessment would take place.
The treatment
Claire began by observing my general range of motion while I stood still. I removed both my shoes and a bulky jumper I was wearing as a second layer, before my mobility was tested starting at the very top.
I was asked to move my head in several directions to see whether my muscles were more tense on one side, and then to hold my arms in different positions out to my sides and flat behind my back.
Next, my balance was scrutinised as I performed a series of stances, bending one leg and then the other. I noticed for the first time that when standing on one leg, my knees swivel when I bend my knee - an apparent indicator of both weak hip flexor ligaments and the hours I spend each day sitting down.
Finally, Claire looked at the alignment of my spine and hips as I lay on a massage table. She checked for any curvature - whether as a result of injury, muscle weakness or any inherited condition such as scoliosis - and whether there were any painful muscle groups, indicating a reduced capacity for proper movement.
Throughout the session, Claire was chatty and friendly, which made some of the more localised joint manipulations less awkward. She also made sure that she explained what every stage of the assessment was designed to monitor and it was encouraging to see her making notes throughout.
The results
The final 15 to 20 minutes of the appointment was devoted to Claire explaining her findings and suggesting behaviours and exercises that could help remedy any problems.
The first thing that she revealed was that I had achieved a high enough score on something called the Beighton test to be classified hypermobile. This condition - present from birth - means that from head to toe and across several planes of motion, my joint flexibility exceeds the normal range. As I wasn't experiencing any long term pain in my joints (sometimes hypermobility is present alongside other conditions including arthritis), it was not deemed a cause for concern.
Instead, Claire suggested that it'd be good to boost my overall muscle strength to balance my over-flexibility and prevent any future joint problems. She pointed me in the direction of yoga classes as an option, which would also help to ease some tension in my back resulting from my desk-bound role at work.
She also outlined exercises, including stretches and modified squats, that I could do to ensure the sporting activities I undertake or hope to take up in the near future don't cause any damage. She even emailed me an in-depth write up of her session notes before saying goodbye.
Overall, I left Anamaya feeling positive and I'm glad that I now have some concrete advice (as well as tools at my disposal) to make sure I can take care of my joints. It was also reassuring to know that my much-mocked 'curved hands' party trick was not a result of anything more sinister than me possessing slightly odd connective tissues.
I plan to sign up to yoga classes soon to keep my spine suppleness in check and since my session, have been improving my core stability by upping my sit-up quota and standing on one leg while brushing my teeth. Glamorous, it ain't, but hey, I like to think that my talented tendons simply take me one step closer than most to being a superhero.
Now where do I sign up for the X-Men academy?