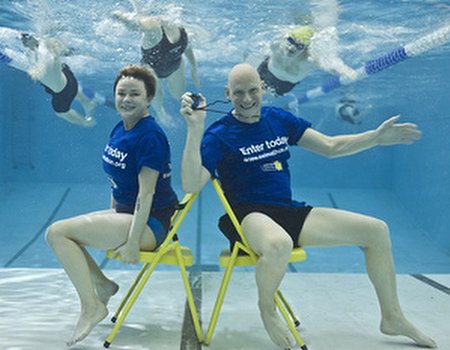 With temperatures lingering in single figures and memories of snow fresh in our minds, the last thing many of us are thinking of is going for a swim. Yet the pastime of taking a dip needn't be confined to the summer months, especially when it's all in the name of a good cause.
This week, Olympic gold medallist Duncan Goodhew and TV presenter Gail Porter helped to launch Swimathon 2011, the world's biggest fundraising swim. Set to take place between 8-10 April, the event will make use of a record breaking 580 of the nation's pools and 22,000 sponsored participants are expected to don their swimming costumes over the course of the weekend in an effort to raise millions of pounds for Marie Curie Cancer Care and the Swimathon Foundation.
Last year, the total raised reached £2 million after registration numbers shot up by 38 per cent. Funds raised this year will help support the dedicated army of Marie Curie Nurses who provide year-round free nursing care to the terminally ill (including cancer patients), in locations of each patients' choice. Throughout 2011, over 29,000 terminally ill people are expected to benefit from the efforts of the charity's nurses in communities and hospices all over the country.
"Launching Swimathon this year gives me huge pleasure," said Porter, speaking at the official opening event in Marshall Street Leisure Centre, London. "The challenge is ideal motivation for everyone to get in the pool and enjoy a much-needed New Year health boost."
Porter also went on to emphasise the positive social and familial aspects of the Swimathon, and praised the recipients of the sponsorship fund:
"I know what a difference [a little help] can make as both my mum and my grandmother died from cancer and received care at home from a Marie Curie Nurse. Caring for a loved one at the end of their life is never an easy time for families but it was made much more bearable for us by the skill and care of [the] amazing nurses."
The Swimathon initiative is now in its 24th year and over half a million swimmers have taken part across the decades. Participants have managed to raise more than £34 million and incredibly have swum the equivalent of 24 times around the world.
Reflecting on these impressive achievements (after a spell showing off his own skills in Marshall Street's art-deco pool) , Swimathon President Duncan Goodhew pointed out that encouragingly, the end of the event doesn't seem mark the end of people's enthusiasm and involvement in the sport either:
"We are approaching a quarter of a century of Swimathons and what's really exciting is that around 2,500 of those who dived in [last year] told us that they only started swimming again because they entered the event. From grass roots right up to our overflowing international trophy cabinet, it seems that Britain's love affair with swimming really is back to stay."
If you're an aquatic fanatic or enthusiast who fancies making a charitable splash, you can do your bit by signing up for Swimathon 2011 today. Visit swimathon.org to register and choose whether to tackle a 1.5km, 2.5km or 5km swimming challenge individually or as part of a team. All ages and abilities are welcome to take part, and if you register before 31st January, you will be able to secure your entry for half price. Registration closes on 7th April and a full list of participating pools and leisure centres can be found on the official Swimathon website.