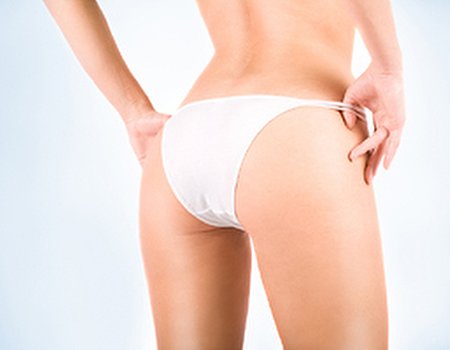 Red and purple and pink and white- they may come in a rainbow of colours but there's one thing that all stretch marks have in common: they're very much unwanted.
Whether you put on a bit of a growth spurt as a teen, developed some whilst pregnant or simply filled out a little round the edges, if you have stretch marks (or 'striae'), the reassuring thing is that you're not alone. Approximately 90% of women develop stretch marks during pregnancy and 7 in every 10 girls and 4 out of 10 boys develop stretch marks during puberty, making them a common (and completely harmless) condition.
Stretch marks are a result of breaks in the dermis (the middle layer of skin that is responsible for supporting the entire organ, giving it firmness and flexibility). They occur after the dermis has been subjected to a short but intense period of stretching and appear purple or red at first before fading to a silvery white. The marks themselves are in fact deeper layers of skin showing through the dermal tears, which gradually become less visible as the skin contracts over time.
Although there is no real way to banish stretch marks for good, there are a number of procedures that help improve the appearance of the affected skin and as a result, boost your confidence. We've rounded up the most trusted treatments to form a definitive complexion correcting collection:
Endermologie
Endermologie is a cosmetic treatment more traditionally used to target cellulite. However, its skin-stimulating rollers combined with suction increase circulation (vital for healing) and stimulate the renewal of connective tissues, apparently speeding up the repair of dermal tears.
A series of sessions is required to obtain the optimum results, so if you're thinking of giving it a roll (sorry, couldn't resist), then you can find your nearest practitioner through Wahanda's extensive listings.
Body Wraps
Whether moisturising or toxin destroying, body wraps offer a more relaxing way to tackle troublesome stretch marks. As well as nourishing the skin and making sure it absorbs all the water that it needs to function, body wraps are also said to boost circulation to all layers of the skin (a benefit that is enhanced if you plump for a post-wrap scrub and massage).
The more moisture-rich wraps will work best on early stage stretch marks (known clinically as 'striae rubra') which are still purple, whereas increasing blood supply to affected areas is likely to help the healing of marks at any stage of development.
Get ready to unwrap faded striae in the near future by booking in at one of the many venues listed on Wahanda that offers body wrap treatments.
Laser Resurfacing
Laser resurfacing is slightly more invasive than other stretch mark solutions. Results are often visible after just one session, but as it literally strips away layers of the skin to force renewal and collagen fibre production, the treatment usually requires a local anaesthetic and carries a recovery time of 7-10 days.
Unfortunately, those with dark skin may want to avoid laser resurfacing, as there is a chance that the procedure will cause changes in your skin's pigmentation levels. You should also be aware that it is significantly pricier than alternative treatments.
If you want to blitz away the redness of stretch marks with laser therapy, then have a look at Wahanda's venue listings for the best deals and the latest customer recommendations.
Microdermabrasion
To buff away beastly marks, turn to microdermabrasion. A gentler process than laser resurfacing, microdermabrasion involves a small unit being used to slough and hoover away dead skin and impurities. The treatment utilizes the abrasive properties of tiny crystals that are propelled with air across the skin, and requires no recovery time.
Although it is quick, easy and fairly bank balance friendly, microdermabrasion does not reach the dermis layer where stretch marks occur and so it is best combined with other procedures.
To try out microdermabrasion for yourself, start by finding your nearest venue offering the service on Wahanda.
Sunless Tanning
Hiding stretch marks is often easier than trying to reduce their appearance and spray and sunless tanning are simple and widely available treatments that do just that. Kill two birds with one stone before jetting off on holiday; have a salon tanning treatment and you'll arrive with a sun-kissed glow (and won't be afraid to show it off on the beach knowing that those silly stretch marks are well concealed).
To top up your tan and tone down scars, first visit the dedicated spray and sunless tanning page here on Wahanda to track down a salon near you.
Cosmetic Surgery
If the source of your stretch marks has also left you with excess skin, then cosmetic surgery such as abdominoplasty (otherwise known as a tummy tuck) may be a viable option. The most expensive and most risky stretch mark treatment, abdominoplasty will tighten up your stomach but may result in a whole new set of scars.
If you've decided that going under the knife is your treatment of choice, be sure to do your homework by looking for more info on practitioners and clinics which perform abdominoplasty.
Have you undergone a stretch mark treatment that has worked really well? Can you recommend any complimentary nutritional methods or skin care routines to other members? Let us know on Twitter @Wahanda.