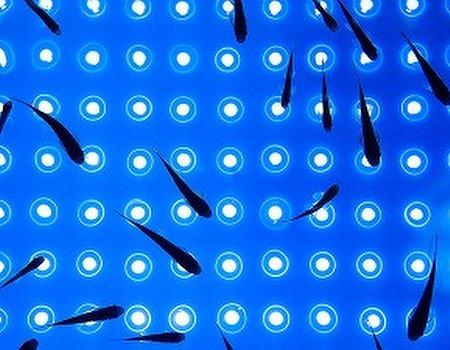 Oh my cod fish fans, have I got some fintastic news for you! The people behind London's first luxury fish spa, the revolutionary yet refined Aqua Sheko in Kensington, are opening a second London store next month.
Aqua Sheko Soho will have all the sleek, oriental glamour of the original spa, but with the addition of two new treatments that you're bound to fall for hook, line and sinker. Alongside the ever popular fish pedicure, Aqua Sheko's tiny Dr Fish army will be available to help carry out both fish manicures and full body exfoliation treatments when the branch opens on 6th December.
11 tanks housing the aquatic therapists will be situated next to a bar-style area on the first floor of the venue, where dull digits and hardened hands can be transformed into miraculously soft mitts whilst you enjoy a cup of one of the 24 different tea blends available.
Down a flight of stairs and opposite a peaceful Japanese garden on the basement level, 10 familiar foot treatment tanks await Londoners' tired tootsies. Also on this floor are two large full body tanks, where customers are invited to submerge themselves in a pool of gentle Garra Rufa and enjoy the light tingling sensation as they lift away areas of dead skin. As they get to work on rogue rough patches, the fish also secrete a beauty boosting enzyme called diathanol, which speeds up skin regeneration. This means that not only will you emerge from the water silky smooth from head to toe, but the healthy natural glow of rejuvenated skin will stay with you for days.
Prices range from £30 for an 'Aqua Sheko Energiser' (a 25 minute escape combining hand or foot fish therapy and the choice of a foot/head and shoulder massage), to £115 for an 'Aqua Sheko Double Indulgence' package (60 minutes of bliss, which includes fish therapy and foot, arm, shoulder and hand massages for two people). Those who are itching to try out the 50 minute full body treatment can splash out and hire the entire treatment room for £112, or really indulge by netting a series of six sessions for £420. Basement Christmas party slots are also available if you feel your office would appreciate fishy frolics more than traditionally festive fair this year!
However long your visit, it's bound to be a unique and memorable experience. "Aqua Sheko's Soho store offers more than just beauty treatments," agrees founder and owner of the chain, Karen Ho. "It is a place where you can come to relax with friends in a chic setting with a social ambience".
Southerners are not the only ones in for a treat though. As a result of the fish pedicure catching on nationwide, Aqua Sheko have made their way to the Midlands and set up a pop up fish pedicure shop in Birmingham's Selfridges department store. Sore soled shoppers should to head to the beauty hall for a fish-filled dip that'll put a pep in their step, but they'll have to be quick- the scaly visitors will only be there until Christmas.