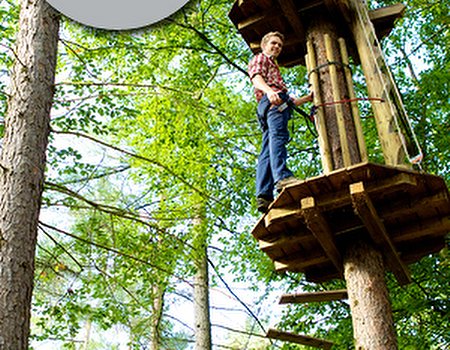 I don't know about you, but I've never been one for interval workouts and circuits. Reps of burpees bore me, I find treadmill stints particularly tiresome, and don't get me started on press ups! As a result, I have always fallen back on sports as my exercise of choice, but if (like me) you are wanting to inject a little more adventure into your 2012 fitness routine, it might be time to branch out.
Go Ape describes itself as a 'tree top adventure' and at each of their 27 sites across the UK, you can immerse yourself in the great outdoors whilst undertaking assault course-style activities in the forest canopy. From rope ladders and tyre bridges to death-defying zip-lines, the idea is to embrace your inner Tarzan and hop, swing and scramble your way from one end of the woods to the other without touching the ground.
As well as testing your upper body strength, flexibility and working muscles you didn't even know you had, during the two hours that (on average) it takes to complete the Go Ape jungle-gym circuit, you're likely to burn around 510 calories and push your heart rate well into fat burning territory. Without even realising it, you'll be reducing your cholesterol levels, boosting your mood with bursts of endorphins and lowering your blood pressure, all whilst having tons of fun out in the fresh air.
Before you start, you'll be given a safety briefing, some quick training and will be harnessed up to avoid any aerial accidents. Even once you get going, you can rest assured that instructors are never far away (meaning that if you do get into any trouble, they can come to your assistance in seconds). There are no special fitness requirements* other than the ability to climb a rope ladder (although if you are pregnant, Go Ape advise that you consult your doctor before attempting the course) and you can even bring the kids along to the Bournemouth park, where children 4 to 10 can enjoy the Tree Top Junior trail.
The Go Ape experience
Parks are open between February and November each year, but I got the chance to sample the speed and dizzying heights of one of Go Ape's zip-lines (the longest indoor zip-line in the world, no less) at the The Outdoors Show 2012 in London's ExCel. At 500ft long, Zip 500 spanned almost half of the show space and began some 30ft up in the rafters of the exhibition centre. After scaling a wooden ladder (accompanied by one of Go Ape's founders, Rebecca Mayhew) and being securely clipped to the wire, all that was left to do was jump!
Thrilling (if slightly terrifying), the fast-moving experience left me feeling exhilarated. Once I had unfastened my harness and found my feet, there was just enough time for me to try out one of the company's off-road segways. A unique alternative to the mountain bikes provided at selected sites, the upright vehicles are used to explore the forest tracks from a little closer to the ground. Steering is controlled by a handlebar stem that moves left and right, but acceleration and braking is performed by shifting your weight forwards and backwards, making for an unusual (but surprisingly nimble) ride.
After a couple of circuits on the makeshift track (and a few close calls with the wooden barriers), it was time for me to leave. Monkeying around was so much fun that I've vowed to visit the newest Go Ape site in Enfield as soon as it opens in the spring. Despite my apprehensive start, I've well and truly caught the bug and can't wait for my next forest fix...
* To take on the full course, you must be over 1.4m (4ft 7) tall and weigh less than 130kg (20.5 stone)