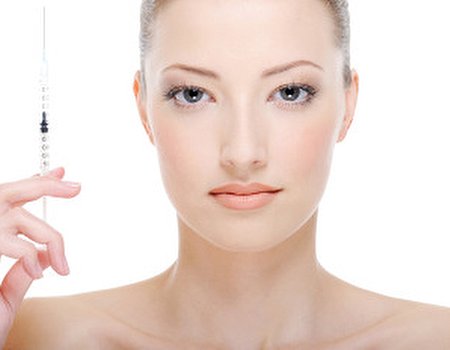 Normally Katie Price is all about the plastic fantastic, having undergone numerous breast enlargements and reductions, a nose job and having been injected with a plethora of dermal fillers. However, the celebrity formally known as Jordan has gone on the record saying that she has given up Botox (for the meantime at least). The reason for Miss Price cutting short her love affair with botulinum toxin? Her busy schedule.
"I haven't had Botox for ages and you can actually see wrinkles on me for once!" The pneumatic celebrity admitted during an interview with This Morning. "I just haven't had time. I said I was going to let it all come out and then start again, because I find the more Botox you have the more you find you need and then your face doesn't move."
It turns out that Price is also far from being itching to be injected again. "It actually doesn't bother me at the moment," she continued. "I'm outside all the time riding [...] and I'm squinting in the wind and rain because I've got an outside school. But I don't care at the minute."
Price is not alone in her abandonment of Botox. Terri Hatcher caused a stir over the summer by posting pictures of herself on Twitter in which she pulled faces to prove she'd ditched the toxin, and after being derided for her apparently frozen forehead on the last series of The X-Factor, Dannii Minogue says she too has given the treatment the boot.
"I have to say that, while I have been open about it, I'm not doing it now," confessed the talent show judge. She even went on to joke about the situation and media coverage, quipping: "For the X Factor, it's actually quite useful to be able to have facial expressions."
The Aussie's sister Kylie, once a firm believer in the injectible, also abandoned sessions earlier in the year and now relies on skin creams to keep deep wrinkles at bay.
"I've been honest about the fact that I did use Botox," she told The News of the World back in April. "I don't any more, I won't go near it. I have lines. You can see the lines on my face."
Is this the start of a Botox backlash, or are these stars still in the minority? After the treatment's surge in popularity, it seems favour has waned when it comes to those in the spotlight due to the necessity of keeping up injected instalments. Frequent public appearances and the fear of being snapped with squint lines seems to have driven some celebs to overuse, and so now they feel that seeking alternative methods may be the best option if they want to keep their features and their fanbase intact.
As well as turning to products such as The Eye Secret, the rich and famous are opting for treatments that promote youthful skin renewal rather than preventing wrinkle causing behaviour.
Bookings for so called Dracula Therapy and micro-needling are on the rise and carboxytherapy is creating a growing buzz. Others are simple turning to laser treatments to regain a youthful glow.
Are you, like Simon Cowell, still an advocate of Botox or do you think we should jettison the jab for good? Are small doses the answer when it comes to staying fresh faced, or do you find paralyzed profiles a little on the freaky side? Let us know on Twitter by tweeting @Wahanda