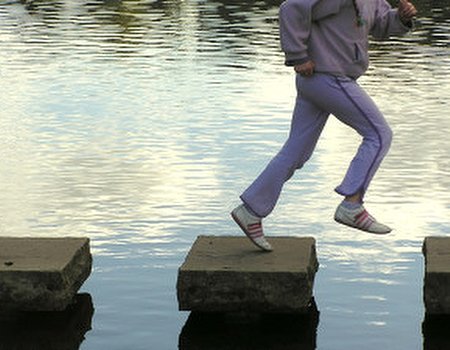 I don't know, but I've been told; January gym trips are getting old...
Do you need to kick start your New Year tone-up mission, but at every attempt have found yourself struggling to find inspiration? If you're looking to work towards something that truly is a break from the norm, then why not try to shake off army-style in preparation for the 2011 Soldier Challenge.
On 26th March, scores of city dwellers will take to London's streets to as part of an urban Rat Race assault course. As well as boosting their fitness levels, participants will be collectively raising money for ABF The Soldiers' Charity with the help of event organisers and urban adventure sports specialists, Rat Race Adventure Sports.
Founded in 1944 as the Army Benevolent Fund, ABF The Soldiers' Charity strives to provide grants and financial support for both past and currently stationed British servicemen and their families, as well as aiding other service-related charities such the Royal British Legion, BLESMA, Help for Heroes and SSAFA. It counts the Queen among its patrons and currently has to raise £7 million a year to meet the needs of soldiers in need.
Over the past two years, ABF The Soldiers' Charity has experienced a 30 percent rise in applications for financial support, largely as a result of current military operations and cases of post-traumatic stress disorder. The charity anticipates that requests made for assistance will rise significantly in the next few years and they plan to increase fundraising to £14 million a year by 2015 to be sure that they can provide help for each and every soldier who submits a request for aid.
There's no need to shy away from the challenge if you fear you may be a little out of shape either. The Soldier Challenge is open to all fitness levels, and although the military themed physical and mental 'tasks' are completed in teams of two to four, there are 35 to choose from (including such once-in-a-lifetime experiences as abseiling in the City and completing a fun-filled obstacle course in the moat at the Tower of London) and you can decide to partake in as many or as few as you like!
Every penny raised through sponsorship by those who take part goes straight to ABF The Soldiers' Charity to boost their efforts and each participant will receive a free trial at the Rat Race Urban Gym classes, which take place in the City of London every Tuesday and Thursday.
Registration is now officially open, so here is all the info you need to know if you fancy giving the Soldier Challenge a go:
The challenge lasts for four hours and is held in the very centre of the capital.
You will be provided with a special Soldier Challenge t-shirt on the day, which you will need to wear throughout in order to take part and gain entry to London's most famous tourist and military venues.
All other equipment is provided (including kayaks, abseiling gear and safety helmets), but remember to put on comfortable shoes!
Some activities involve water and/or mud, but non-swimmers and the image conscious can avoid these as they will be clearly marked on the day.
You can choose your own starting time from five specified "waves" of competitors: 1000, 1030, 1100, 1130 and 1200 (in military hours, naturally) and then will have 4 hours to complete as much of the challenge as you wish.
Teams can be made up of two, three or four people, but all team members must be over the age of 14. 14 and 15 year old competitors must be accompanied by at least one adult and participants aged 16 and 17 years old (who may take part without parents/guardians) need to obtain written consent from a parent/guardian consent to do so.
Entry costs £35 per person, which covers the cost of running the event. ALL sponsorship funds are sent directly to the charity.
And finally, you can find answers to other FAQ (including queries regarding the use of public transport during the event) and online entry forms at soldierchallenge.co.uk.
Quickkkkk march!