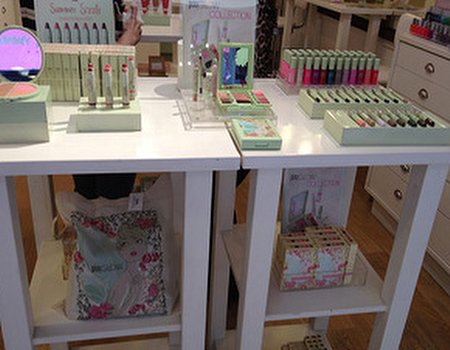 Beauty counter or store makeovers have always been my arch nemesis. There is nothing I hate more than walking through a department store, pausing at a counter and being pounced on within seconds and forced onto a stool with a thousand brushes, creams and lotions being thrust upon my face. It screams pressured and intense – everything you don't want from a shopping experience.
The venue
Pixi cosmetics offer an entirely new experience to the cosmetic counter – one that is approachable, welcoming and knowledgeable. Just a stone's throw away from Oxford Circus tube and nestled in the heart of Soho, Pixi is just the right mix of quirky and cute and fits perfectly into Fouberts Place (just off Carnaby Street).
The brand was founded 10 years ago by Swedish makeup artist Petra Strand – a woman who had a mission "to make women look themselves but better". The ethos of the brand centres on thoughtful planning, natural ingredients and bringing the Pixi customer the best experience possible. The labour of Petra's love is obvious in the overall finish and quality of the product.
The treatment
Out of the looks available, I opted for the 'Good Night's Sleep Make Over' – a natural daytime look. Though you do pick a specific one, my makeup artist Hayley asked me questions and consulted me throughout the whole process, so it's fine to differ and change up the products, techniques and applications. The staff really concerned themselves with making sure that I was going to be pleased with the end result, which is probably the biggest factor that made the Pixi experience stand out from the hundreds of others for me.
After cleansing and moisturising with some of the brand's skincare, an illuminating primer was applied to my skin as a base, followed by a concealer for blemishes and dark circles which was then set with a translucent powder. Hayley then looked at my eye colour and skin tone before contouring my eyelids and adding lashings of mascara. A warm blusher was applied to my cheeks and a suitable lipstain and balm finished off the look. One thing I tend to struggle with when it comes to cosmetics is lip colour, so it was great to have an expert eye on hand to tell me what I suited and what I didn't.
The result
All customers leave with a facial map printed out and annotated with the names of products and techniques used throughout their makeover – a great reference tool if you want to recreate the look at home or go back and purchase other items at a later date.
So many other product based makeovers have left me sitting tight-lipped and scared to look in the mirror as the makeup is applied silently and without consultation. One even left me purchasing some make-up wipes on the way home and scrubbing my face on the train. Thankfully, none of that was needed this time.
The running theme of the packaging is a gorgeous pastel green and gold, with newest range Pixi Glow sporting an illustrated Tinkerbell-like image with flowers and leaves. Palettes are a little more detailed and make excellent gifts.
The actual quality of the products is an extremely high standard – foundations and primers feel creamy and moisturising, blushers, powders and shadows have great pigment quality and lipsticks tints and balms are long lasting and durable.
The only very minor niggle I had was that when the store became busy it did seem a little too crowded (although I did visit during peak time on a Friday afternoon/early evening). The combination of excellent customer service and affordable, attractive and good quality products make Pixi a standalone brand, one that other big players in the industry could learn a little something from.