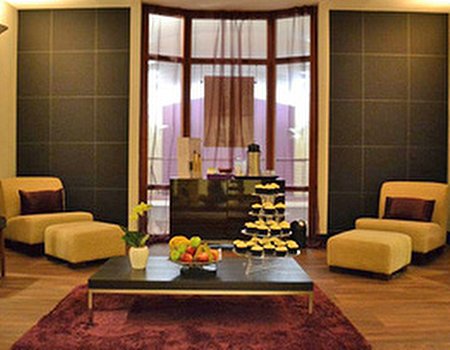 For me, spa days are the ultimate way to recharge your batteries for a few hours without spending shed loads of cash and disappearing to an exotic island for a week. They provide the perfect year round pick-me-up when life and its stressors have taken their toll.
The venue
Until recently, I hadn't realised that spa days don't have to involve a five hour journey, endless fields and a country manor straight out of Dickens novel. It dawned on me that I had never been to a spa day or break that was city or town focused. Something about them didn't scream relaxation to me. Atlas Spa has proven this theory utterly wrong.
Although not set in the most aesthetically pleasing surroundings (housed within the Stevenage David Lloyd Health Club in retail park with lots of restaurants and eateries), once inside, you'll find that Atlas is an oasis of calm.
Just inside the door and up a gorgeous wooden staircase is where total indulgence begins. Greeted on (a delayed) arrival – rubbish Sat Nav and even worse map reading held us up- with a delicious smoothie, the bright and bubbly reception staff ushered us inside to what turned out to be my favourite room of the day – the relaxation lounge. Cosy and comfy loungers, chairs and cushions awaited with an array of herbal teas and enough magazines and reading material to pore over all day. Bliss.
Several treatment rooms are set out in a corridor style around the relaxation room, each with warm heated treatment beds and soothing music. There is also a small changing area with lockers, showers and a steam room to undress and prepare for pampering. There is even a small wicker basket with shampoos, conditioners, hair products and lots of other lotions and potions to help yourself to. I thought this was a great personal touch and a nice change to the mass produced toiletries often provided by big chain spas.
Atlas spa goers can take advantage of the health club facilities and hop downstairs and enjoy the swimming pool, Jacuzzi and an additional steam room if they wish. We were actually so content upstairs that we didn't even venture down!
The treatment
Firstly I received a 30 minute hot stone back massage - just what I needed after a stressful few weeks at work. My therapist really helped to work out the tension in my shoulders and lower back, gliding the hot stones over all the sore and knotted points.
I was then treated to an Espa facial – a great cleanse and nourishing treatment for my city stressed skin. Winter had also taken its toll on my complexion and I was suffering from a Rudolf red nose and cracked dry skin thanks to an awful cold the previous week. I notified my therapist of this and not only did she take extra care, but even popped on some cream to help soothe and hydrate the area.
I was also accompanied by my mum for the day who, not only couldn't stop ranting and raving about the venue and staff, but who constantly kept commenting on how amazing her massage, facial and manicure was. It even got to the point where she was so pleased with the results that I think she uttered the question "Don't my nails look nice?" a good twelve times whilst gazing adoringly at the pearly pink polish. Annoying for me her companion, but a true testament to the quality of the spa and treatments.
The team at Atlas make a real effort with each and every client to make them feel special. As cheesy as it may sound, it really does make a difference. Here I experienced the best of the best in customer service and in expertise ; a winning combination for any business, and one that goes especially far in the world of spas.
The result
Saturday evening I practically melted into my bed and fell fast asleep within minutes due to my tranquil state. Awaking on Sunday morning my body was no longer achey and stiff but relaxed and supple – a far cry from what it had been like recently. Over a week later and, due to the gentle and calming products used in my facial, I saw no breakouts, redness and even emitted a little 'glow'. Perfect.