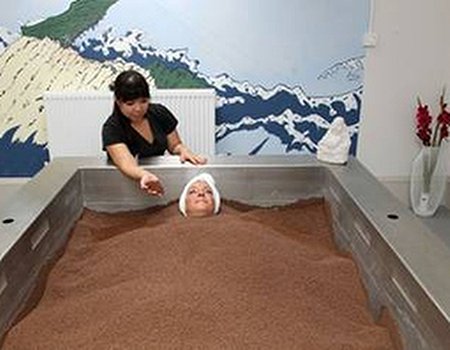 We are all made of stars. More precisely, our bodies contain minerals and if we were to brush up on the good old periodic table we studied at school we could read it as a menu of what our planet, our surroundings, our food, our bodies are made of. Not all elements are beneficial to our bodies (like Arsenic!) but the ones which are, for example Selenium, are difficult to include in our diet as soil gets more and more depleted by intensive farming.
And who knows how to get hold of Vanadium, Rubidium, Zirconium, Radon and Titanium?
These trace elements are useful for a multitude of purposes, from reducing cholesterol (Vanadium) to reducing inflammation caused by arthritis and joint pain (Radon).
Thankfully you can absorb these precious minerals through the skin by having a Taizen Japanese hot stone bath.
The treatment
Taizen means 'calm' in Japanese and the idea is to have a hot, dry bath, where instead of using hot water you lie in a tank filled with tiny stones. This type of treatment is customary in Japan, the ultimate travel destination for hot springs. In particular, Beppu is renowned for its hot sand baths, which the locals call suna-yu.
Shadi Danin Spa in Hove has brought the Japanese hot sand bath experience to Europe (and it's the only venue in Europe so far). The spa uses volcanic stones which have been ground and smoothed to a perfect round shape, so they feel comfortable on the skin. The tiny stones are approximately 2mm in diameter. Using sand would have been counterproductive as you need to wash the sand after every treatment and most of it would simply flush away in the tub. Instead, the tiny pebbles stay in the bath and they can be cleansed for the next treatment.
The stones are in fact washed after every session, using state of the art filtering and UV cleaning systems to eliminate all bacteria.
These perfectly round (and very expensive!) pebbles retain heat and provide a supportive environment for the body. The temperature of the stones ranges between 42 and 46 degrees Celsius which is comparable to a sauna. For this reason, the recommended treatment time is between 9 and 20 minutes. I stayed for 20 minutes and realised that my body was ready to come out of the session. I am usually comfortable in the heat but other people may find it unbearable.
As you start perspiring, your whole body starts pulsating from the heat and from the stones pressing against the skin. I loved the feeling of having my back fully supported by a structure that was firm but loose at the same time. I wish somebody could make mattresses like that. In a way, it is like lying on a (heated) bean bag or a large heat pack. Therefore, this treatment is advisable for people suffering from rheumatism, aches and pains.
It is recommended to have between 3 and 6 sessions to have maximum benefits - one session is only the starting point for the body to shed toxins. You also get a fabulous neck, scalp and shoulder massage after the bath.
The result
During the session, my lower legs felt like they were in heated compression stockings: it was like having a deep tissue massage in a sauna. After the session I felt energised and my lower back, which had been painful, felt better. Unfortunately, stepping out in very cold weather made my lower back tense up again, which means that the heat worked well in releasing the muscles. I wish I could have the hot stone bath every day during winter.