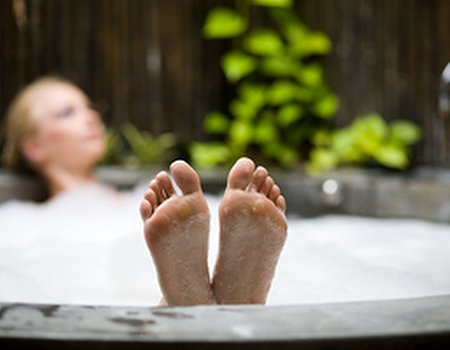 After some deliberation, I must say that Slovenians do it better when it comes to offering a high quality spa experience.
I recently stayed at the Hotel Slovenija in Portoroz Slovenia, which is part of the Lifeclass spa and hotel chain. First of all, I must say that Portoroz itself looks like Montecarlo with its luxury hotels, casinos and sea promenade lined with palm trees. Everything is spotless and clean and you may think some fairies sweep the streets constantly day and night as there's no litter anywhere. This in itself made for a refreshing change from the dirty streets of London.
If you are a guest staying at any of the Lifeclass resorts, you get access to all facilities in the chain - so I went to the Sauna Park at the Grand Hotel Portoroz, which has a larger spa than Hotel Slovenija, with the added bonus of having an outdoor jacuzzi on the terrace overlooking the sea. Life was idyllic in my short stay at Lifeclass. Hotel Slovenija is a 4 star hotel with its own spa, bar and restaurant and as you check in they throw in some freebies like a complimentary welcome cocktail (Campari no less) and a 5 euro credit at the casino.
All the swimming pools have sea water and you can really see the benefits of swimming in mineral rich water: your skin looks better (mine certainly did) and the added benefit of iodine can help you shift a cheeky pound or two. Also, aqua gym classes are included if you are feeling up to the challenge: the classes are fun and run twice a day.
The hydrotherapy pools have powerful water jets that really pummel you into a blissed out pulp. You can choose different strengths, but of course the traditional jacuzzi tub is everybody's favourite - so you often need to queue for it.
Slovenia benefited from European investments when it joined the European Union and all those funds were put to good use. Slovenia can really teach the rest of Europe how to pamper people in style and providing excellent customer service. All staff can speak fluent Slovenian, Italian, English and German; the tourist sector is what really drives the local economy and Slovenia has some first class universities and colleges teaching travel and tourism. You can also see that Slovenians take pride in their attention to detail.
With the same glamour as Montecarlo and a wallet-friendly approach to providing affordable spa breaks, Slovenia has it all. London and the rest of Europe: watch and learn.