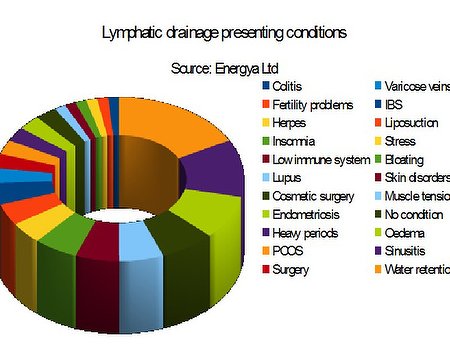 Doing 300 manual lymphatic drainage treatments in 2011 taught me a lot about inflammatory conditions including bloating, water retention and lymphoedema.
Most cases I had come across last year plus more I have seen this year all tend to suffer from more than one inflammatory condition when they book an appointment for manual lymphatic drainage.
Having lymphatic drainage post-surgery is of course an important part of after care and is a category that deserves a separate study.
Last year I saw a large number of clients presenting inflammatory conditions. Research from 1985 showed that there was a between histamine and oedema. In other words, if you suffer from hay fever, asthma, eczema, psoriasis, IBS or other inflammatory conditions you are likely to also suffer from swelling.
Using manual lymphatic drainage can be beneficial to reduce the body's overall inflammation and discomfort because it can help in bringing down the swelling and lowering of histamine levels in the body.
Academic research studies on the actual effectiveness of manual lymphatic drainage are not widely available, however the feedback I received from people suffering from sinus congestion who received manual lymphatic drainage was positive. They reported that that the mechanical action of working on the sinuses helped them to breathe better.
It is somewhat easier to measure the effectiveness of lymphatic drainage for water retention and bloating. Using a tape measure, clients were measured before and after performing manual lymphatic drainage. On average, swollen ankles would reduce in size by 1cm after performing manual lymphatic drainage. For abdominal bloating, and depending on the client's weight, fitness levels and digestive transit speed, a lymphatic massage had helped reduce waist size by 2cm.
Results will vary according to the client's eating and exercise habits, particularly for people suffering from candida which requires an extremely strict diet avoiding all types of sugar.
The more compliant a client is, the better the results. In cases of lymphoedema for example, wearing compression stockings is essential to manage the condition and avoid painful or uncomfortable swelling in the ankles.
Is manual lymphatic drainage suitable for everybody? The answer is yes. You don't have to suffer from a particular medical condition (always check with your GP if you are in doubt) to benefit from the relaxation and detoxification effects of manual lymphatic drainage. This technique can potentially act as an incentive to lose weight and improve sleep as it works extremely gently but has long-lasting calming and rebalancing effects on the central nervous system.
See Energya's latest offers for manual lymphatic drainage.